Creme Brulee French Toast
December 16, 2012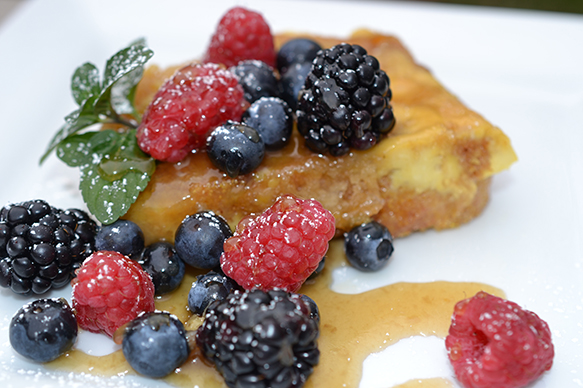 When Scott was at Indiana University he would take us to his favorite spot on campus for brunch. Up Town Cafe was the inspiration for our newly adapted tradition…creme brulee french toast. From that first bite… I searched for a recipe to recreate that delicious experience. In the seven years since, this has been our holiday staple. By the time Christmas morning shows up all I want to do is sit back and enjoy the moment. Fortunately, all the preparation for this dish is done the day before. I'll round out the meal with something savory….. and mimosas!! Cheers!
Creme Brulee French Toast    (adapted by Courtney Weiner, Food Network)
1/2 cup (1 stick) butter, unsalted
1 cup brown sugar, packed
2 tablespoon corn syrup
1 9 inch round loaf Challah bread (I used Italian loaf)
5 large eggs
1 1/2 cups half and half
1 teaspoon vanilla
1 teaspoon Grand Marnier (optional)
1/4 teaspoon salt
In a heavy saucepan melt butter with brown sugar and corn syrup stir over moderate heat til smooth. Pour into a 13 by 9 baking dish. Cut slices of bread to fit in baking dish, squeezing them tightly to fit. In a bowl whisk together eggs, half and half, vanilla, Grand Marnier and salt until combined well and pour evenly over bread. Chill bread mixture, covered, at least 8 hours and up to 1 day. Preheat oven to 350 degrees. Bring bread mixture to room temperature. Bake uncovered, in the middle of oven til puffed and edges are golden, 35 to 40 minutes. For serving you flip the french toast so the caramel on the bottom is on top. Garnish with fresh berries, powdered sugar and drizzle with sauce from the bottom of pan.