Cioppino
December 26, 2012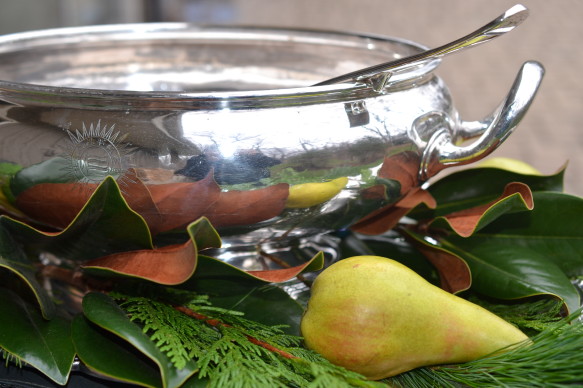 Do you want a WOW dish that is fun, elegant or can be a casual way to entertain your friends and family? For me this menu falls into all categories. You see… I have inherited (well actually...I'm holding this for my Mom) a silver tureen that makes me want to fill it with anything beautiful. Cioppino is beautiful!!! The fun comes when you place the Cioppino in the center of the table and everyone helps themselves. Elegant, well…again the tureen. Casual, serving it in any vessel will do. For menu planning, I serve the Cioppino as the entree ( the WOW factor). The first course is hearty, a 3 cheese penne pasta. Next, the salad course is a caesar with crusty bread. And finally, end the meal with a chocolate almond torte. Trust me when I say this Cioppino rivals any out there…I've made this for so many years that I have no idea of the origin, only that I was at an elegant yet casual dinner party in the neighborhood 20 years ago, and left with this recipe!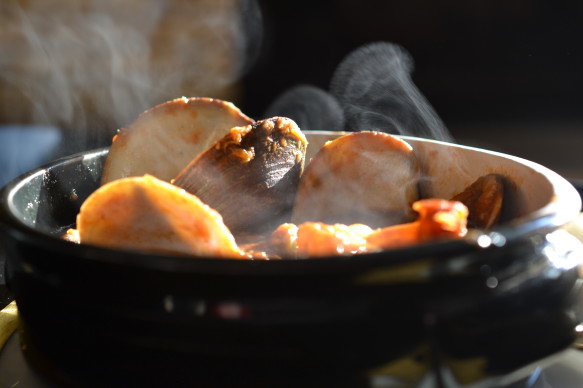 Cioppino  
Serves 6  (for an entree)
1/4 cup olive oil
2 large onions, chopped
2 large green peppers, chopped
6 celery stalks, chopped
5 large garlic cloves, crushed
1 cup parsley, minced
1  46 ounce vegetable juice (V8)
1 1/2 cups dry white wine
1 1/2 cups red wine
1  8 ounce bottle clam juice
1  6 ounce can tomato paste
4 large tomatoes, seeded and chopped
1 tablespoon Italian seasoning
4 bay leaves
1 teaspoon red pepper flakes (or to taste)
Hot pepper sauce (to taste)
Salt and pepper (to taste)
1 to 1 1/2 pounds white fish (cod or tilapia or any hearty whitefish) cut into 1 1/2 inch chunks
30 or so cherrystone clams
1 pound large shrimp (about 20), deveined
My choice (and amount) of seafood has varied over the years. You certainly can add crab, little neck clams etc…
Heat olive oil in a stockpot over medium high heat until hot. Add onion, green pepper, celery, garlic and 1/4 cup parsley and cook until vegetables are limp. Add vegetable juice, wines, clam juice, tomato paste, tomatoes, Italian seasoning, bay leaves, red pepper, salt, pepper and blend well. Bring to a boil and then reduce heat, simmer for 30 minutes. Add white fish and simmer 5 minutes. Add shrimp and continue to simmer until pink, about 3 minutes. Add clams and cook until clams open, about 4 minutes. Ladle into soup bowls or any vessel you may be using. Garnish with remaining parsley. Ciopinno is best if both is made ahead and refrigerated overnight to blend flavors.
This would make for a fun New Years Eve Menu!