Tomato Soup With Parmesan Crisps
January 6, 2013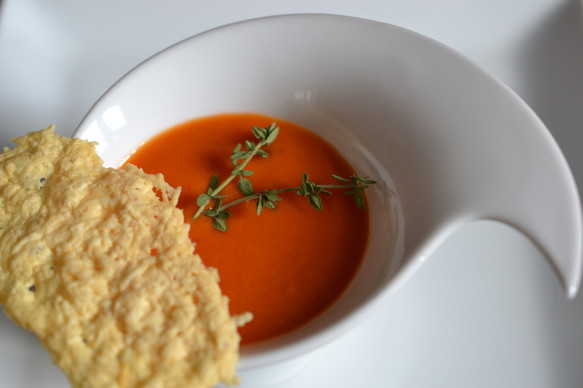 What are your memories when you hear tomato soup? I think snow, brisk cold air, sitting in front of a roaring fire, skiing, sledding, ice skating, grilled cheese, family and other simple pleasures. Tomato soup makes me feel warm and fuzzy! Do yourself a favor….don't open "the can."  Make this soup. As shown here, I made this grown up version for an appetizer course by adding sherry (or brandy) for an additional depth of flavor. Add the parmesan crisps for a salty crunch and tasty companion to the soup. Of course….for an entree, nothing beats a grilled cheese sandwich for dunking.
Tomato Soup    (Adapted from  Americas Test Kitchen Cookbook)
2 (28 ounce) can whole tomatoes packed in juice (San Marzano),  3 cups tomato juice reserved
1 1/2 tablespoons brown sugar
4 tablespoons butter
4 shallots, minced
1 tablespoon tomato paste
Pinch of allspice
2 tablespoons flour
1 3/4 cup chicken stock
1/2 cup heavy cream (optional) I omitted this step
2 tablespoons Brandy or Sherry (optional)
Salt and cayenne pepper (to taste)
Preheat oven to 450 degrees. Open the can of  tomatoes over a strainer and reserve liquid. Over the strainer with your hands, open tomatoes and remove seeds. Place tomatoes on a foil lined baking sheet. Spray with cooking spray. Sprinkle tomatoes with brown sugar. Bake 30 minutes.  Transfer to a bowl. Heat butter in a saucepan add shallots, tomato paste and allspice. Reduce, cover and cook til shallots are soft, about 5 minutes. Add flour and cook continuously, about 30 seconds. Gradually add chicken stock. Add tomatoes and reserved liquid. Cover and bring to a boil. Reduce heat and simmer for 15 minutes. Cool slightly and transfer to a blender and puree. Return to pan add brandy, sherry and cream if desired. Finish with salt and pepper to taste.
Parmesan Crisps
Makes 10
10 tablespoons grated parmesan cheese (1 tablespoon of cheese per crisp)
Preheat oven to 375 degrees. Line a baking sheet with foil and spray with non stick cooking spray. With your box grater, grate the cheese on the small side of grater. Mound 1 tablespoon of cheese on the baking sheet. Gently pat the mound down to make it easier to melt. Leave a few inches between mounds. You can create round, elongated, even heart shapes. Bake for 8-10 minutes til parmesan crisps are light brown. Make sure you watch these… the time will vary depending on the size.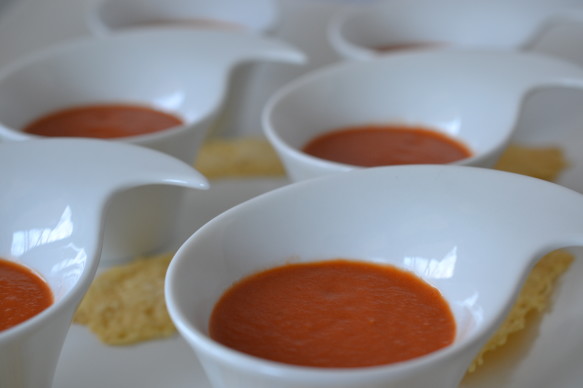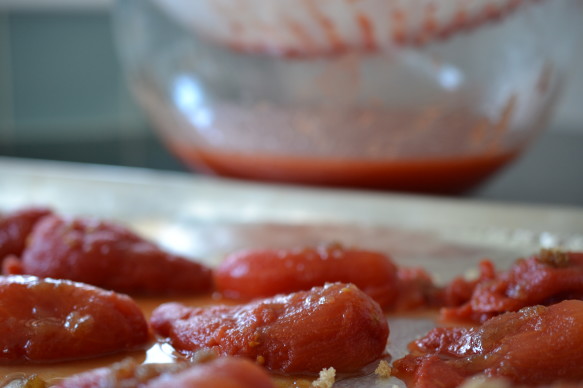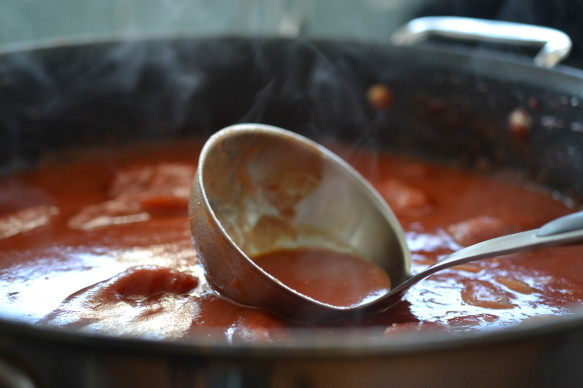 Parmesan Crisps