Winter Salad With Kale, Acorn Squash And Quinoa
January 15, 2013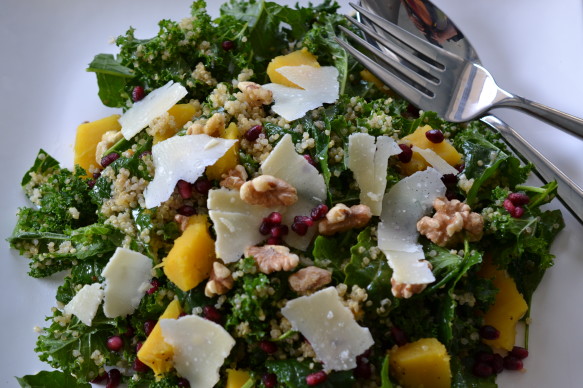 Cold winter salads should be filling and comforting. Bonus:  in the height of flu season, this heart healthy salad is fortified with immune boosting ingredients and is sure to keep that doctor away. Kale  (a superfood) and quinoa (gluten-free) are the stars of this entree, rich in nutrients, antioxidants and protein. I think adding the warm squash and quinoa keep the winter in this winter salad. The pomegranates (rich in antioxidants) add sweetness, crunch and a splash of color, while the walnuts add omega-3s and their share of antioxidants.  I feel better already!! You can make the quinoa and squash days before and assemble for a quick, healthy go-to meal. This salad is also a perfect companion to grilled meat.
Winter Salad
1 tablespoon apple vinegar
1 tablespoon orange juice
1/2 teaspoon orange zest
1/2 teaspoon cumin
1/2 teaspoon honey
1 small shallot, diced
Salt and pepper
1/4 cup olive oil
1 bunch kale/approximately 4 cups
1 acorn squash or butternut squash, roasted
1 1/2 cup quinoa, cooked
3 tablespoons pomegranate seeds
Chopped walnuts
Parmesan shavings
Preheat oven to 425 degrees. Cut squash in half. Scoop out seeds. Drizzle with olive oil, salt and pepper. Roast til soft, approximately 45 minutes. Remove from oven and cool . Cut into wedges or cubes. Cook quinoa according to instructions. In a small bowl combine vinegar, juice, zest, cumin, honey, salt, pepper and olive oil. Blend. Remove stem of kale and cut into bite sizes pieces. ( I prefer small organic kale leaves.) Place in a bowl and combine kale, quinoa and 1/2 the dressing. On a serving platter arrange kale mixture. Top with squash, pomegranate seeds, walnuts, parmesan shavings and drizzle with remaining dressing. Squeeze a bit of fresh orange juice to finish.