Asian Meatballs With Hoisin Sauce
January 25, 2013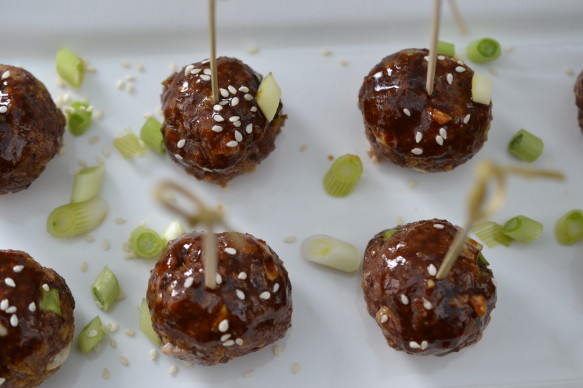 Thinking of the big game and what to serve? Meatballs come to mind.  A combination of pork, beef and a traditional marinara sauce certainly makes a crowd pleasing appetizer. Fortunately, a few months ago I made Asian chicken lettuce wraps and all the ingredients for these meatballs are in my pantry. So let's switch it up!! This winning recipe can be made as individual meatballs or sliders.
Meatballs      (adapted by Gimme Some Oven)
1 pound ground beef
1 teaspoon sesame oil
1/2 cup panko bread crumbs
1/4 teaspoon ground ginger
1 large egg
2 cloves garlic, minced
3 green onions
Garnish  Green onions, sesame seeds
Hoisin Sauce
1/4 cup hoisin sauce
2 tablespoon rice vinegar
1 tablespoon soy sauce
1/2 teaspoon sesame oil
2 cloves garlic. minced
1/2 teaspoon ground ginger
Preheat oven to 400 degrees. Line baking sheet with parchment paper. In a large bowl, combine ground beef, panko, egg, garlic, and green onions. Stir until well combined. Roll mixture into 1 1/2 inch meatballs, forming about 18 total. Place meatballs in the oven and bake 12 minutes, until all sides are browned and meatballs are cooked through. Sauce:  To make sauce combine hoisin, rice vinegar, soy sauce, sesame oil, garlic, and ginger in a small bowl. Serve meatballs immediately, garnish with onion and sesame seeds. Drizzle sauce on meatballs when ready so serve, and also use as a dipping sauce.