Beet And Goat Cheese Napoleons
January 30, 2013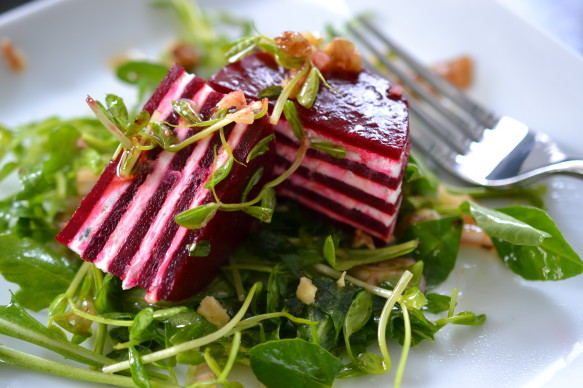 Were you born with the beet gene? I was. I love beets!! This time of year with their rich crimson color and heart healthy benefits, they make me think of Valentines Day. For years, Randy and I would make dinner reservations to celebrate this romantic evening. Now……we prefer to make a special dinner at home together. Yep…in the kitchen sipping champagne and cooking together. One go-to course in this meal will be these beet napoleons. Sure, these ruby jewels have a high sugar content but they are also low in calories, high in fiber, rich in iron, beta carotene, folic acid, vitamin C, A and contain plenty of antioxidants and minerals. This earthy, sweet fruit is proven to fight cancer, cleanse your blood and liver and protect artery disease.  So when planning your special evening at home think of combining beets, goat cheese, orange, walnuts and greens for a colorful salad. To round out the menu I'm planning on preparing seared scallops and (of course) chocolate!
Beet and Goat Cheese Napoleons    (Adapted from Saveur)
Serves 4
5 beets, roasted and peeled
9 ounces goat cheese, softened*
4 teaspoons chives, minced
4 teaspoons parsley, minced
2 teaspoons thyme, minced
Pepper to taste
3/4 cup fresh orange juice
1 tablespoon balsamic vinegar
1/4 teaspoon orange zest
1 small shallot, minced
3 tablespoon olive oil
3 tablespoon walnut oil
Salt to taste
3 tablespoons walnuts, chopped
Mixed greens
Preheat oven to 425 degrees. Cover beets with foil and bake for approximately 1 hour or until fork tender. Cool and peel beets. Using a mandolin slice the beets (or slice thin even rounds). Use a cookie cutter (size depends on beets) cut out 20 rounds. In a small bowl stir goat cheese together with chives, parsley, thyme and pepper in a bowl and set a side. For dressing: bring orange juice to a boil over medium heat. Cook until reduced to 1/3 cup, about 4 minutes. Let cool. Transfer juice to a bowl along with remaining thyme, balsamic vinegar, zest, and shallots. While whisking, drizzle in olive oil and walnut oil, whisk until smooth. Season with salt and pepper. Let chill. To assemble: Roll out goat cheese between two pieces of parchment paper. I have found that placing the cheese at this point in the freezer to firm up (about 5-8 minutes…do not let it freeze) makes cutting the rounds so much easier. Cut beet slice with cookie cutter. Put 1 beet slice on work surface; cut out cheese round and place on beet. Repeat to create a stack with 4 layers of cheese between 5 slices of beets. Makes 4 stacks of beets. To serve: Leave stacks whole, slice in half or quarters. Serve with greens and drizzle with vinaigrette and garnish with walnuts.
* you may need additional cheese depending on the size of rounds