Caramelized Seared Scallops
February 3, 2013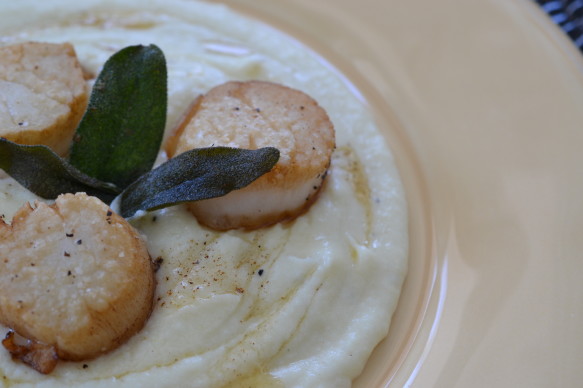 There aren't many entrees as elegant and simple as seared scallops. For our Valentine's Day Menu I am trying a new version of these flavorful jewels. In Thomas Keller's  Ad Hoc cookbook, he brines the scallops for 10 minutes to achieve a rich salty flavor throughout. They are then seared in a hot pan with clarified butter. The outside will get a crisp crust and the inside remains creamy. I'm serving these with a celery root and potato puree. If your looking for a lighter version, serve with sautéed spinach.
Caramelized Sea Scallops           (Adapted from Thomas Keller)
Serves 4
1 cup kosher salt, plus more for taste
2 cups boiling water
8 cups cold water
12 large sea scallops   * (U7)
About 2 tablespoons *Clarified Butter
*Clarified Butter. The point of using clarified butter is that you can saute with it. By removing the milk solids you can burn at high temperatures. You can freeze any extra for several months wrapped airtight. To clarify:  1 pound (4 sticks) unsalted butter, cut into pieces. Put the butter in a small saucepan and melt it over low heat, without stirring. Skim off the foamy layer that has risen to the top and discard. Carefully pour off the clear yellow liquid, the clarified butter, into a container, leaving the white milky layer behind. Cover tightly and refrigerate for up to one month or freeze.
Combine salt and hot water, stirring to dissolve salt. Add the cold water. Add the scallops to the brine and let stand for 10 minutes (no longer). Drain the scallops and rinse under cold water, and arrange in a single layer on the paper towels. Heat the clarified butter in a large stainless steel frying pan over medium-high heat until it begins to smoke. ( Keller recommends using a stainless pan over non-stick for a better caramelization). Sprinkle the scallops with salt and add to the pan. Cook and do not move the scallops until the bottoms are a rich, golden brown, 3 to 3 1/2 minutes. Turn the scallops and caramelize the second side. Serve over potato celery root puree (see recipe index) and sage butter.
*U7  is the size of scallops (who knew?). Seven scallops per pound. This gives you an idea of the size Thomas Keller uses for this recipe.
Alternative cooking method.  Don't brine the scallops. Instead of clarifying butter, simply combine 2 tablespoons of unsalted butter and 2 tablespoons of olive oil to a saute pan. Heat til hot. Add scallops and saute til caramelized. 3 to 3 1/2 minutes per side.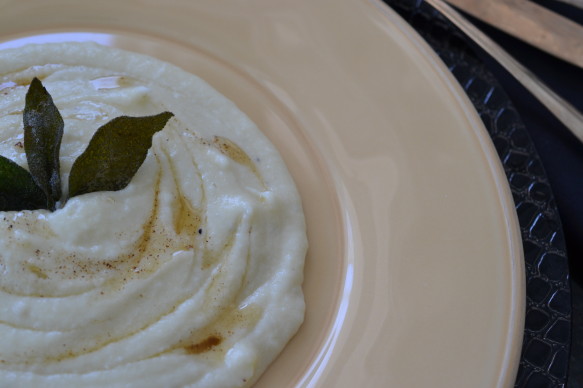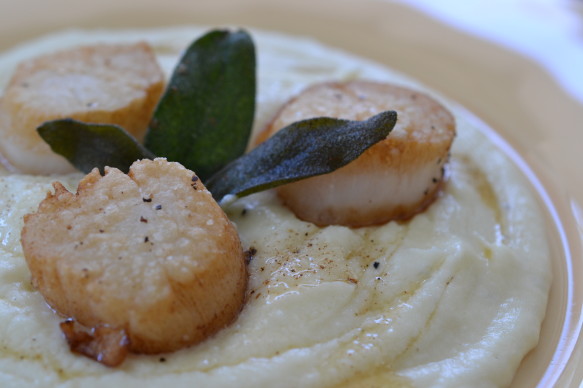 I've made scallops for years. I've caramelized them, I've wrapped them, I've seared them. Trust me when I say the Thomas Keller method of brining and using clarified butter is worth the extra effort!! A crusty, crunchy exterior and velvety interior is the incredible result!