Chocolate Lava Cake
February 8, 2013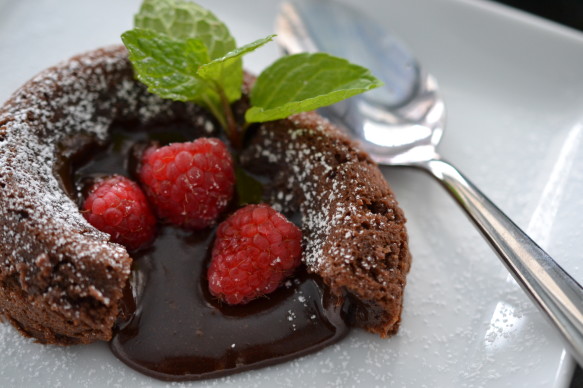 New York Chef Jean-Georges Vongerichten is credited with inventing this molten masterpiece back in 1987.  This decadent dessert was meant to be individual chocolate cakes. However, they were taken out of the oven too early. Hence, this cake that oozes a chocolate center onto the plate was born. Serve this dessert right from the oven with vanilla ice cream or freshly whipped cream. Suggestion: keep the ramekins at room temperature while you serve dinner and toward the end of the meal place the cakes in the oven…they take only 14 minutes! Perfect for Valentines Day dessert…….it will be for ours!
 Chocolate Lava Cake      (Adapted from Paula Deen)
Serves 6
6  (1 ounce) squares bittersweet chocolate
2 (1 ounce) squares semi-sweet chocolate
10 tablespoons butter
1/2 cup flour
1 1/2 cup confectioners sugar
3 large eggs
3 egg yolks
1 teaspoon vanilla
Preheat oven to 425 degrees. Grease 6 ( 6 oz) custard cups. Melt chocolate and butter in a double boiler. Remove from heat.  Add flour and sugar to chocolate mixture. Stir in eggs and yolks until smooth. Stir in vanilla. Divide batter evenly among cups. Bake for 14 minutes (This seems to be the magic number). Edges should be firm and center giggly. Remove from oven. Run a knife around the edges and invert the cake onto a plate. Dust with confectioners sugar. Garnish with raspberries and mint. Serve with vanilla ice cream. Do Ahead: Make the cakes a day before the party and keep ramekins in fridge. Bring to room temperature before baking.