Lobster Risotto
February 14, 2013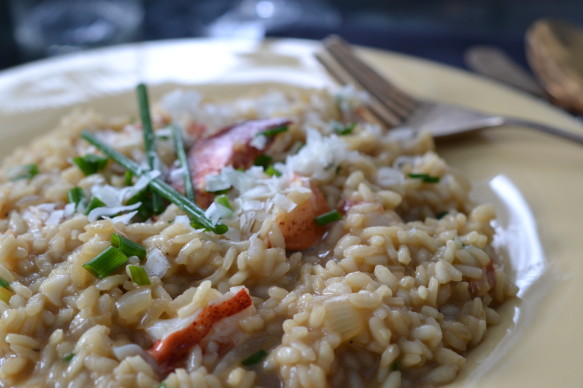 I love lobster!! I just don't want to deal with it…. the whole lobster is more than I want to handle. It actually makes me sad to throw that whole lobster in hot boiling water.  Last week when I was at Diamond Seafood and saw a package of lobster meat (shrink wrapped) ready to go… I was off and running with my lobster love and all the possibilities. This luxurious dish of Risotto laced with tender lobster meat befits a special occasion….. I'm planning on making this for our date night in this week.
Lobster Risotto         

Serves 4
3/4 to 1 pound of lobster meat OR 1 pound of lobster tails
4 1/2 cups chicken stock, low sodium
3 tablespoons butter
1 small onion, finely chopped
1 1/2 cups Arborio rice
1/2 cup brandy (or white wine)
1/2 cup grated parmesan cheese
1/4 cup chives, chopped
Salt and pepper
Bring a medium saucepan of salted water to a boil over medium-high heat. Add the lobster tails and boil for 8 to 10 minutes until the lobster meat turns white. Drain, transfer to a cutting board, and cool. Using kitchen shears, cut through the top shell lengthwise. Remove the meat and cut into 1/2-inch pieces. Set aside.  (OR buy lobster meat from your fish monger… like I did!)  FOR RISOTTO: In a medium saucepan, bring the chicken stock to a simmer. Keep warm over low heat. In a large saucepan, melt 3 tablespoons of butter over medium heat. Add the onion and cook, about 3 minutes. Add the rice and stir to coat with the butter. Add the brandy and simmer until the liquid has just about evaporated, about 3 minutes. Add 1/2 cup of stock and stir until almost completely absorbed, about 2 minutes. Continue adding the stock, 1/2 cup at a time, stirring constantly and allowing each addition of stock to absorb before adding the next. Cook until the rice is tender, about 20 minutes. Remove from the heat. Stir in the Parmesan cheese, the remaining 1 tablespoon butter and approximately 3 tablespoons chives. Season with salt and pepper, to taste. Mix lobster into risotto til warm. Garnish with remaining chives.