Chicken Pot Pie
February 22, 2013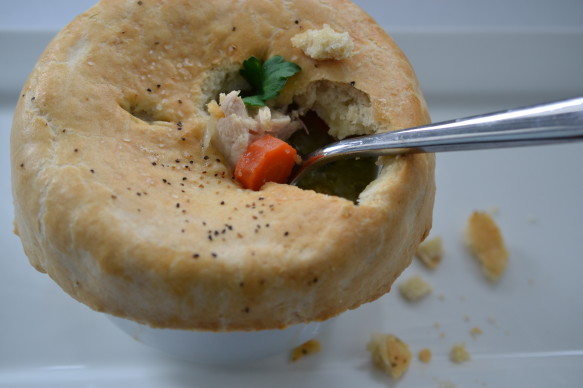 As I'm rolling out the dough, it's snowing…..it's perfect! I love winter. I love snow. That + this= comfort. This warm, hearty chicken stew loaded with vegetables and savory sauce makes the ultimate winter classic. A couple of years ago my Mom gave me the chicken pot pie she received as a Christmas gift. The pie happened to be one of "Oprah's Favorites." That first bite brought me back to my childhood. They were really good memories (not of the frozen Swanson pie) but of the homey house with a roaring fire, flannel pajamas, pink foam curlers (haha) and snow! I remember that I loved the crust and picked around the insides. That flashback sent me on a journey to find the perfect recipe and re-create those feelings. Try this! Make your own and customize each pie to your family's individual likes. More carrots for me (no peas please)! This version of the "classic" is so good you'll wish we had 6 more weeks of winter!! Not kidding!!
 Chicken Pot Pie      (Slightly adapted by Ina Garten)
Serves 4
6 chicken breast, skin on -bone in
3 tablespoons olive oil
Salt and pepper
5 cups chicken stock
2 chicken bouillon cubes
1 stick of butter
2 yellow onions, chopped
1 or 2 stalks celery, chopped
3/4 cup flour
1/4 cup heavy cream
2 cups carrots, chopped, blanched
1 10 oz package frozen peas
1/2 cup parsley, minced
Pastry
3 cups flour
1 teaspoon salt
1 teaspoon baking powder
1/2 cup vegetable shortening
1 stick butter, cold, diced
1/2 to 2/3 cups ice water
1 egg beaten with 1 tablespoon water, egg wash
Salt and pepper
Preheat oven to 350 degrees. Drizzle chicken with olive oil, salt and pepper. Cook 35 to 40 minutes. Cool. Dice. In a small pan heat stock and dissolve bouillon. In a large stock pot, melt butter, add onion and celery, cook for 10 minutes. Add flour and cook for 2 minutes. Add stock, simmer for a few minutes. Add salt and pepper to taste. Stir in heavy cream (if using). Add chicken, carrots, peas, and parsley. Pastry: Mix flour, salt and baking powder in a food processor. Add shortening, butter and mix with fingers until each piece is covered with flour. Pulse 10 times until the mixture is pea size. While motor is running add ice water, process until it forms a ball. On a floured surface , knead into a ball. Refrigerate for 30 minutes. Quarter the dough and roll out. Cut the dough a few inches wider than the bowl you are serving the soup in. Egg wash the edges and then place the dough on top of crock. Crimp edges. Make 3 slits on the top and egg wash. Sprinkle with salt and pepper. Place in oven at 375 degrees for 1 hour. Variations: Use your imagination…. fresh thyme, rosemary, dash of sherry, small diced potatoes and store bought puff pastry. Lightened up: Cut butter in half/ using half olive oil. Salt only to taste and omit cream.