French Onion Soup
March 3, 2013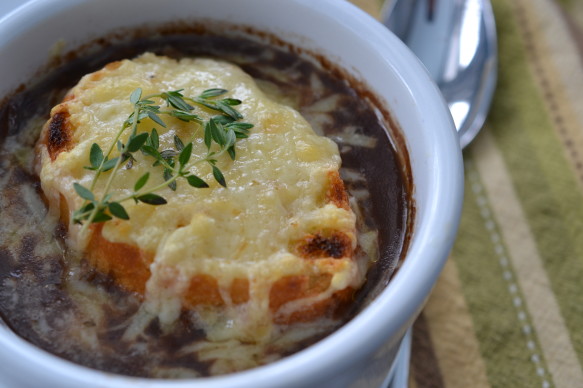 It's chilly. No, actually it's freezing. I think a bowl of hot soup is just what the Doctor ordered, especially when the soup is filled with onions that are high in flavonoids and Vitamin C…..a known immune system booster. This classic dish is rich, savory and comforting. Great for entertaining or just cuddling up fireside…that's where you'll find us!
French Onion Soup                             (Adapted from Ina Garten)
3  tablespoons unsalted butter
Olive oil
4 or 5 pounds yellow onions, sliced
2 bay leaves
4 thyme sprigs
Salt and pepper, to taste
1 tablespoon flour
1/2 cup dry sherry
1/2 cup brandy or cognac
1 1/2 cup dry white wine
4 cups beef stock
4 cups chicken stock
Baguette
1/2 pound of gruyère cheese, grated
Melt butter and a few drizzles of olive oil in a large pot over medium heat. Add onions, garlic, bay leaves, thyme sprigs, salt and pepper, cook until the onions are caramelized, about 40 (or more) minutes. Dust the onions with 1 tablespoon of flour, stirring for a few minutes.  Add sherry and brandy, deglaze pan, simmer for 5 minutes. Discard bay leaves and thyme.  Add white wine, simmer for 15 minutes. Add beef and chicken stock. Bring to a boil and simmer for 20 minutes. To Serve: Slice baguette, brush with olive oil and lightly toast both sides under broiler. Remove and rub a clove of raw garlic over the baguette. Place bread on the top of soup and cover with grated gruyère cheese, Place under broiler til cheese is melted and golden. Serve with a green salad. This soup freezes well!