Corned Beef And Cabbage
March 8, 2013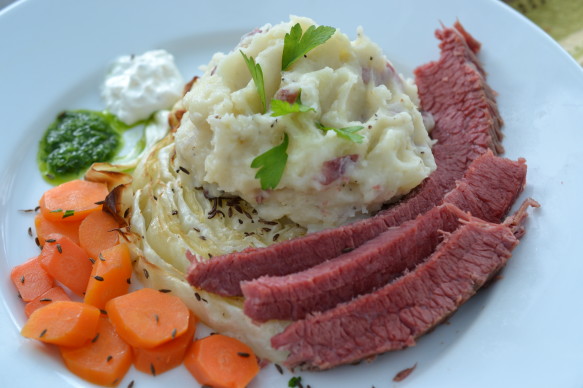 Once a year I make corned beef and cabbage. Then I wonder why?? Why only once a year!! This family style dinner has become our familiar St. Paddy's Day feast with all the traditional trimmings of boiled cabbage, potatoes, and carrots. When the kids were home…this was an easy meal to literally throw (in one pot) together. (I've changed up the one pot idea this year). This post was not going to happen until I mentioned my leftover recipes to my sister Paula. I was so surprised that the Queen of one pot dinners has never made corned beef and cabbage. Paula asked me to make "this… so she can make that"! (the leftovers!)
Corned Beef And Cabbage
Serves 6
1-4½ pound corned beef brisket
4 allspice berries
2 bay leaves
1 teaspoon mustard seeds
OR use spice packet included and omit the previous 3 ingredients
1 onion, quartered
1 bulb garlic, cut crosswise so each clove is cut in half
1 teaspoon black peppercorns
Rinse corned beef under cold running water. Place in large pot. Add allspice, bay leaves, mustard seeds (or included spice packet) onion, garlic and peppercorns. Add enough water to cover. Bring to a boil, skim any scum off top, if needed. Reduce to a simmer and cover. Cook about 4 hours, or until fork-tender. Remove, cover tightly with foil and let rest for 20 minutes.
***One pot version. At this point, while meat is resting, add potatoes (cut in half), carrots (chunked), and cabbage wedges. Bring to a boil. Lower heat to simmer. Cook until vegetables are fork tender. Slice meat against the grain. Arrange vegetables and corned beef on a large platter.

Roasted Cabbage Slices
The last hour the corned beef is cooking, prepare and cook cabbage.
1 medium green cabbage, cut into 1″ rounds
Extra virgin olive oil
1 tablespoon caraway seeds, crushed
Salt and pepper
Preheat oven to 400 degrees. Spray baking sheet with a non-stick spray. Brush cabbage slices with olive oil. Season with salt and pepper. Sprinkle with caraway seeds. Roast until cabbage is tender and edges are golden, 40-45 minutes.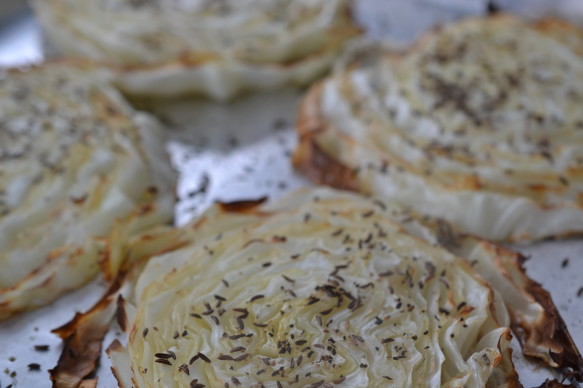 Potato and Parsnip Mash
Once cabbage is in the oven,  prepare the potatoes.                                                                                                                       
1 1/2 pounds red potatoes, cubed, skin on
4 parsnips, peeled and cubed
1/2 cup milk (or 1/2 &1/2), plus more if needed
3 tablespoons butter
2 tablespoons prepared horseradish
Salt and pepper
Place potatoes and parsnips in a medium saucepan and cover with cold water. Bring to a boil. Cook til fork tender, about 20 minutes. Heat butter and milk in a small saucepan and simmer til warm. Drain potato mixture and return to saucepan. Add milk mixture and mash til smooth. Mix in horseradish. Season to taste with salt and pepper.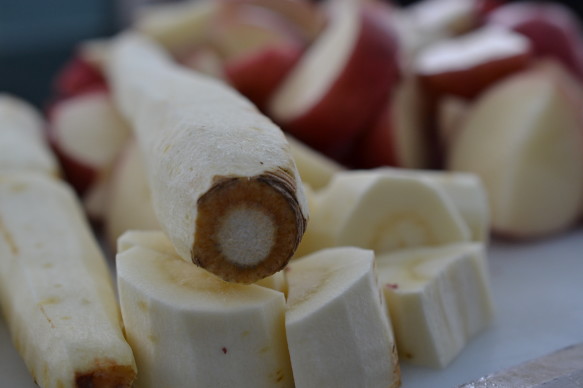 Carrots
6-8 carrots, cut to your preference ( slices or chunks)
Either add carrots to the corned beef the last 30 minutes OR roast them with the cabbage, til fork tender
Horseradish Cream (Use as an accompaniment to corned beef. Save plenty for leftover dishes to follow)   (Adapted from Food Network)
3/4 cup sour cream
3/4 cup mayonnaise
1/4 cup prepared jarred grated horseradish
1/2 teaspoon grated lemon zest
Salt and pepper, to taste
Combine all ingredients and let rest in refrigerator for at least 30 minutes to marry flavors.