Corned Beef Hash With Poached Eggs
March 12, 2013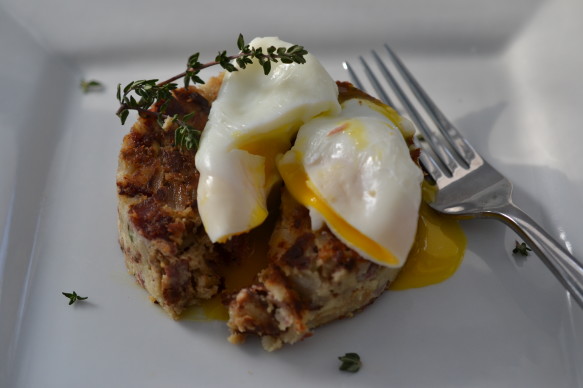 There are sooo many things I love about my husband. This is just one of the many I can share…..he loves leftovers. Not really because of the leftovers, but that he hates to waste food. He would eat corned beef and cabbage for as many days as it sat in the fridge. Fortunately for Randy, I love the challenge of creating new dishes from what lurks in that box. This creation has fond memories of breakfast at our favorite spot in town, Egg Harbor Cafe. Along with every entree my son Scott ordered, it had to come with a side of corned beef hash. So this was a no-brainer…the leftovers must always include a version of hash. Really, you can't mess this one up. All the leftovers from last night's dinner get thrown in the pan (O.K. maybe not the cabbage)!
Corned Beef Hash with Poached Eggs
Serves 4
2 cups roughly chopped boiled red new potatoes (or mashed)
2 cups diced leftover cooked corned beef
1/4 cup chicken broth
1 medium shallot , minced
1/2 clove garlic, minced
1/4 teaspoon thyme
Pepper
1/4 cup butter, plus 1 tablespoon
4 eggs *(poached)
In large bowl, place 1 cup of the potatoes and mash with a fork (or the mashed potatoes). Add the remaining 1 cup potatoes, corned beef, chicken broth, shallot, garlic, thyme. Season generously with pepper and mix well. At this point make individual hash patties or cook all together in the skillet. Heat 1/4 cup butter in a large skillet over medium-high heat. When the foaming subsides, add the hash mixture and cook. Using a spatula, press the mixture down into the skillet. Cook, for approximately 4 minutes. Reduce the heat to medium and continue cooking, until the underside is browned, about 5 minutes more. At this point …before you flip the hash add the remaining 1 tablespoon of butter. Flip the patties. Cook for 3 minutes. Reduce the heat to medium and cook, until the underside is brown, about 4 minutes more. Set aside covered with foil to keep warm. Serve the dish topped with eggs. ( I cut out rounds with a metal ring at this point.) Garnish with thyme sprigs.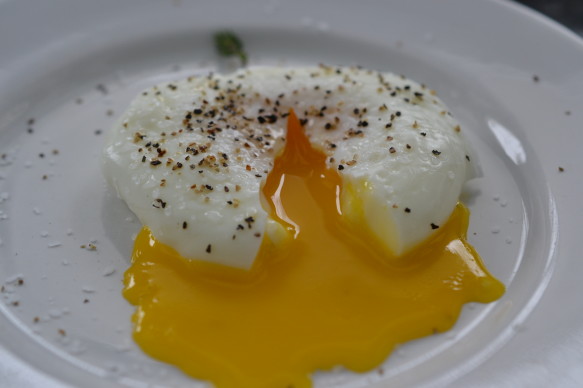 *How to poach the perfect egg:  (by Thomas Keller)
4 farm raised eggs
4 tablespoons white wine vinegar
Salt and pepper
Fill a heavy bottomed sauce pan with 6-8 inches of water. Bring to a boil. Add 2 tablespoons vinegar to water and reduce heat to a simmer. Crack one egg into a ramekin. Using a wooden spoon, stir the water at the edge of the pan two times to create a whirlpool. Drop egg into the middle of the whirlpool. Start your timer. Two minutes (or when the white is set and yoke is still runny) gently remove your poached egg with a slotted spoon. Transfer the egg to a bed of paper towels to soak up some of the cooking water. (Keller suggests trimming off uneven edges of the cooked egg with a small pair of scissors.) Season with salt and fresh ground pepper. Skim off any foam from the simmering water. Repeat – cooking one egg at a time. After 2 eggs…refresh water and add 2 tablespoons vinegar.