Meyer Lemon Tart
March 16, 2013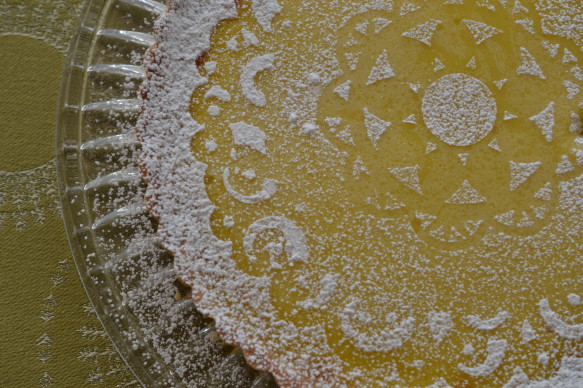 It's Meyer Lemon Season. My suggestion is to run not walk to pick up these lemons to make this tart. Meyer lemon season is December to April. These floral, thin skinned fruits (with an origin from China) are a cross between a lemon and a mandarin or common orange. They have a soft skin and are significantly sweeter and less acidic than your typical lemon. Meyer lemons have a beautiful aroma that add a wonderful note to any traditional dishes. The tart recipe is from one of my "favorite reads"…Love and Olive Oil.
Meyer Lemon Macadamia Nut Tart   (adapted from Love and Olive Oil)

1- 9 inch tart pan with removable bottom/ OR 4×15 inch tart pan
Crust
1/2 cup macadamia nuts
1 cup flour
1/3 cup powdered sugar
1/2 cup (1 stick) unsalted butter, cut into cubes
1 tablespoon cold water
Filling:
7 large egg yolks
2 large eggs
1 cup sugar
1/2 cup grated fresh Meyer lemon zest (from 5 to 6 lemons)
2/3 cup fresh Meyer lemon juice (from 5 to 6 lemons)
Pinch salt
4 tablespoons (1/2 stick) unsalted butter, cut into 4 pieces
3 tablespoons heavy cream, chilled
Confectioner's sugar
Preheat oven to 375 degrees F.
Crust: Place macadamia nuts in the bowl of a food processor, pulse until ground. Add flour and sugar. Pulse until combined. Place cubes of butter in processor. Pulse until just combined. Pour in water and pulse one or two more times or until evenly moistened. Dough will be crumbly, but should come together when pinched with your fingers. Place dough into your preferred tart pan with removable bottom. Firmly press dough into the bottom and up the sides of the pan. Bake for 11 to 13 minutes or until edges are lightly golden brown. Remove from oven and place on a wire rack to cool slightly, then prepare filling. Filling: In a medium saucepan, whisk together the eggs and egg yolks. Whisk in the sugar until combined, then the lemon zest, lemon juice, and salt. Add the butter and cook over medium-low heat, stirring constantly, until the mixture thickens slightly, about 5 minutes. Pour the mixture through a fine-mesh strainer and into a bowl and stir in the heavy cream. Pour the filling mixture into the warm tart shell. Place on a baking sheet and bake (375 degrees) until the tart is opaque and the center jiggles slightly, about 10 to 15 minutes. Remove from oven and allow to cool completely to room temperature, about 1 1/2 hours, then refrigerate until ready to serve. When ready to serve use a template and sprinkle with confectioner's sugar.