Asparagus Ribbon Quiche
March 21, 2013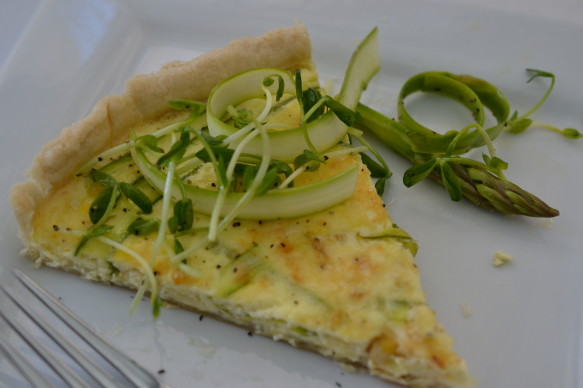 Breakfast, lunch or dinner. Easter brunch, bridal shower or spring luncheon…..quiche never disappoints. Make the most of the available in season produce. Spring asparagus is markedly different with sweeter shoots and a tender texture. Using a vegetable peeler will eliminate the need to blanch the asparagus. Gruyere adds a creamy, earthy component to this elegant dish. Maybe if we all just think about these lovely ingredients and a spring luncheon……..spring will show up!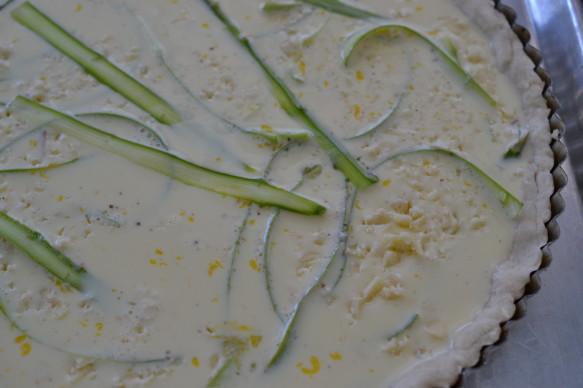 Asparagus Ribbon Tart/ with Leeks and Gruyere
Pate Brisee (see below)
1 tablespoon olive oil
1 leek (white and light green parts only) or 2 spring onions thinly sliced
4 eggs
1 1/2 cups milk (or 1/2 & 1/2)
1/2 teaspoon salt
Pinch of freshly grated nutmeg
7 stalks of asparagus, (use 1 stalk for garnish) slice into ribbons using a vegetable peeler
1/2 cup gruyere cheese, grated
Make Pate Brisee (see below). While quiche shell is cooling, saute leek (or onions) in approximately 1 tablespoon of olive oil, until soft, about 2 minutes. In a large bowl whisk eggs, milk, salt and nutmeg together. Place the gruyere, leek and most of asparagus ribbons into the pastry (reserve a few asparagus curls for garnish). Pour in egg mixture and top with reserved asparagus pieces. Place quiche pan on a baking sheet to cook.  Bake at 350 degrees for 35-40 minutes, or until the edges are golden and the middle is set. Check closely the last 10 minutes.  Rotate during cooking time. If edges of pie shell are looking dark, place foil over crust to reduce any further cooking.
Garnish with asparagus ribbons and pea shoots (or micro-greens). Lightly toss garnish with olive oil, lemon juice and salt.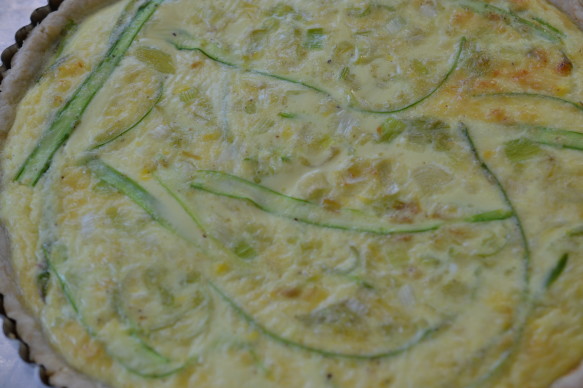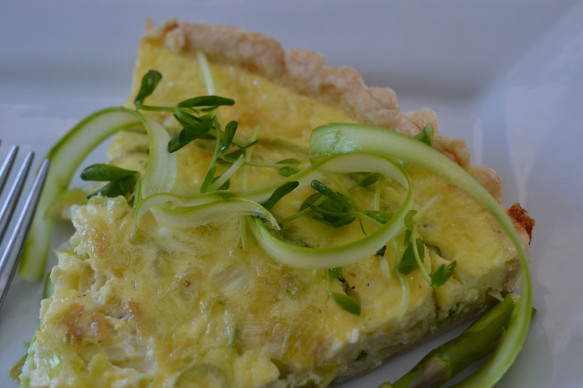 Pate Brisee
1 1/4 cups all-purpose flour, plus extra for rolling
1/2 teaspoon salt
1/2 teaspoon sugar
8 tablespoon (1 stick) unsalted butter, very-cold, cut into 1/2 inch cubes
3 to 4 tablespoon ice water
Place the flour, salt, and sugar in the bowl of a food processor, and process for a few seconds to combine. Add the butter, and process until the mixture resembles coarse meal, about 10 seconds. With the machine running, add the ice water in a slow, steady stream, just until the dough holds together. Do not process for more than 30 seconds. Turn the dough out onto a work surface. Place on a sheet of plastic wrap. Flatten, and form into a disc. Wrap and refrigerate at least 30 minutes before using. When ready to bake, roll out and place in a quiche pan. Preheat the oven to 400 degrees. Place a sheet of foil in the shell and fill with beans, or pie weights. Bake for 10 to 12 minutes, until the pie shell begins to feel firm. Remove.