Gorgonzola Cheese Straws
March 24, 2013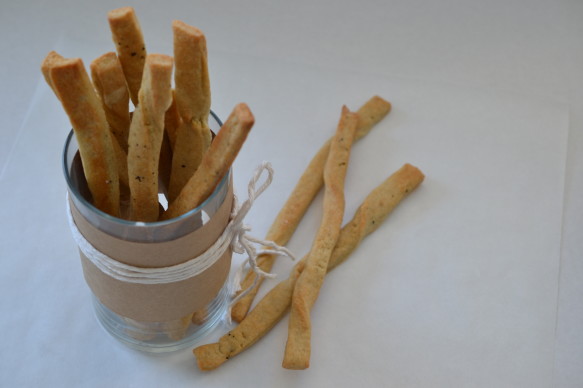 This is the week that spring arrives. Tell that to the weather Gods. I however,  have made the culinary switch…..welcome to spring fare. Fresh, healthy and green….with an occasional twist. To accompany the many salads and side dishes try these easy to make cheese straws. Savory, rich with a bit of a peppery note. Great idea for a simple appetizer and a perfect companion for red wine.
Gorgonzola Cheese Straws   (Adapted from Love and Olive Oil)
4 ounces Gorgonzola cheese, crumbled
1 cup all-purpose flour
6 tablespoons unsalted butter
1/2 teaspoon baking powder
1/2 teaspoon salt
1/4 teaspoon pepper, fresh ground
2 tablespoons milk
Preheat oven to 350 degrees. Combine cheese, flour, butter, baking powder, salt, and pepper in a food processor pulsing until mixture resembles coarse meal. Add milk and pulse until incorporated. Dough will be crumbly, but should stick together when pinched with your fingers. Roll out dough on a lightly floured surface into a rectangle, approximately 1/4-inch thick. Cut dough with a pizza wheel or sharp knife into 1/2-inch strips. Carefully transfer to two parchment lined baking sheets, leaving a  bit of space between them. You can also gently twist the strips for a slightly different effect. Bake, rotating the baking sheets halfway through baking, until straws are puffed and bottoms are golden, about 15 to 18 minutes. Cool completely. Straws will keep, stored in an airtight container, for up to 3 days.