Banana Cream Pie Shooters
April 21, 2013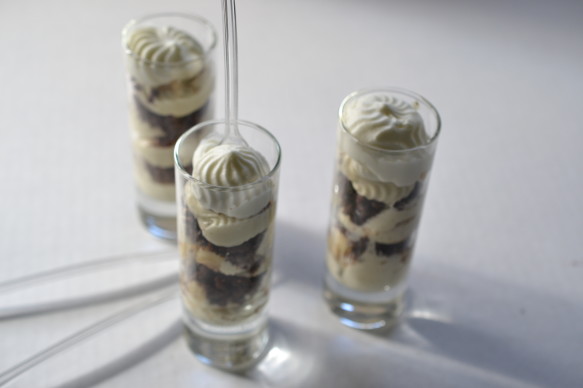 The instructions were…bring a sweet for the sweet table. I knew the table would be filled with cakes, pies and all things chocolate. I wanted to do something a little different. Knowing that Tom (the birthday boy) loved banana cream pie, this deconstructed version was a no-brainer.  The recipe below was developed by Christina Tosi, owner/chef of Momofuku Milk Bar. Enough said. Tosi's version of this rich, velvety, decadent dessert is a perfect finish to any meal.
Banana Cream Pie Shooters     (Adapted from Momofuku Milk Bar by Christina Tosi)
Chocolate Crumb
2/3 cup all-purpose flour
1 teaspoon cornstarch
1/2 cup sugar
2/3 cup good-quality cocoa powder
1 teaspoon salt
6 tablespoons unsalted butter, melted
Heat the oven to 300 degrees.
Combine the flour, cornstarch, sugar, cocoa, and salt in the bowl of a stand mixer fitted with a paddle attachment. Mix on low until mixed. Add the butter and mix on low until the mixture starts to come together in small clusters. Spread the crumbs on a parchment covered sheet pan. Bake for 20 minutes. Let the crumbs cool completely before using.
**The following instruction for Chocolate Crust is NOT used for the shooters. Use the crust recipe if you are making a pie.
**Chocolate Crust       (makes 1 10-inch pie crust)
3/4 of the chocolate crumb recipe above
2 teaspoons sugar
1/8 teaspoon salt
1 to 2 tablespoons of melted butter
Break up the chocolate crumbs into a bowl. Add sugar and 1 tablespoon of the melted butter to start. With your hands, knead until it is moist enough to form a ball. If it isn't moist enough, add another tablespoon of melted butter. Press the crust firmly into the pie plate, making sure the bottom and sides are evenly covered.
Banana Cream
2 very ripe bananas
1/3 cup heavy cream
1/4 cup whole milk
1/2 cup sugar
2 tablespoons cornstarch
1/2 teaspoon salt
3 egg yolks
2 gelatin sheets (or 1 teaspoon powdered gelatin)
3 tablespoons butter
1/2 teaspoon yellow food coloring (I did not use food coloring….looks lovely without)
3/4 cup heavy cream (plus more for topping, about 1 cup)
1 cup powdered sugar (I used 3/4 cup)
1 just-ripe (yellow) banana, diced
Additional Whipped cream for topping/slightly sweetened with powdered sugar
Combine the ripe bananas, 1/3 cup heavy cream, and 1/4 cup milk in a blender & puree until totally smooth. Add the next section of ingredients–the sugar, cornstarch, salt, & egg yolks and blend. Pour into a medium saucepan. Clean out the blender. Bloom the gelatin. (To bloom sheet gelatin, soak it in a small bowl of cold water for 2 minutes. Gently squeeze to remove any excess water before using. To bloom powdered gelatin, sprinkle it evenly onto the surface of 2 tablespoons of cold water in a small dish or cup. Allow to soften for 3-5 minutes.)
Whisk the contents of the pan and heat over medium-low heat. As the banana mixture heats up, it will thicken. Bring to a boil and then continue to whisk vigorously for 2 minutes to fully cook out the starch. The mixture will resemble thick glue, bordering on cement, with a color to match. Dump the contents of the pan into the blender. Add the bloomed gelatin and butter and blend until smooth and even. Transfer the mixture to a container & chill in refrigerator for 30-60 minutes or until completely cooled.
Using a whisk or a mixer with a whisk attachment, whip the cream and powdered sugar to medium-soft peaks. Add the cold banana mixture to the whipped cream and slowly whisk til combined. (Stored in the refrigerator in an airtight container, this will stay fresh for up to 5 days.)
To Assemble Shooters: Use a pastry bag. Start with a dollop of banana cream/ diced bananas/banana cream/chocolate crumb. Repeat as many times as your vessel allows. End with whipped cream. Toppings: toasted coconut or chocolate crumb.
Note: I assembled the shooters 4 hours before I left for the party. Make sure you place the diced bananas in between the creme layers so not to brown. Keep in fridge until you serve them.
To Assemble Pie: Pour half the banana cream into the chocolate pie shell. Cover with a layer of sliced banana and then cover that with the remaining filling.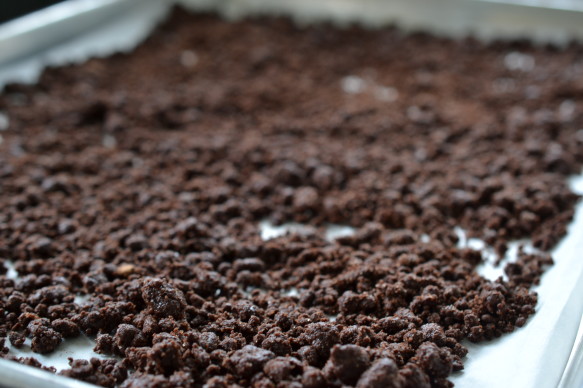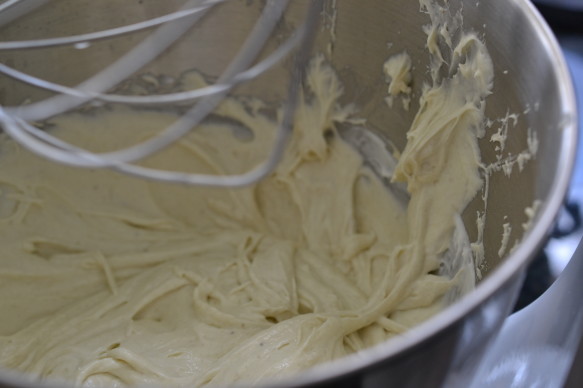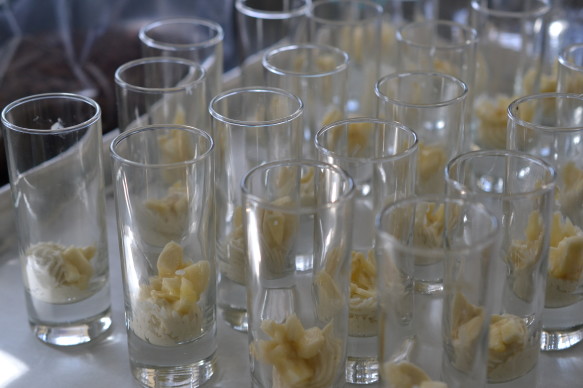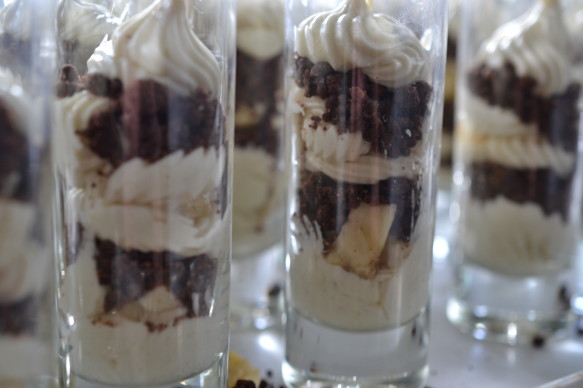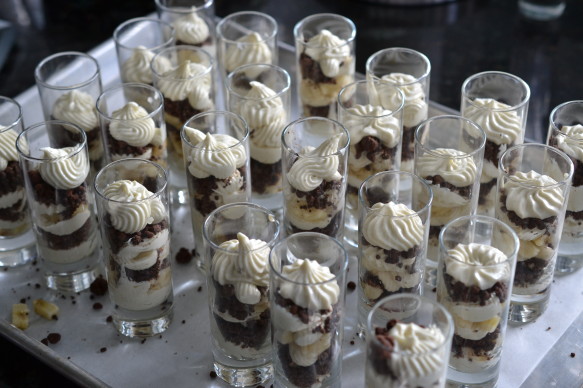 Shot, wine, martini, brandy, ……………any glass will make a nice presentation!