Asparagus and Ramp Soup
May 26, 2013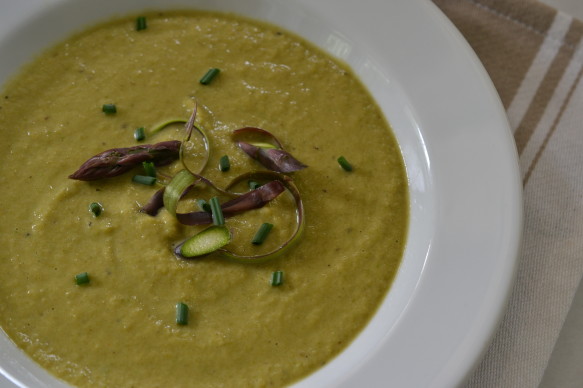 Ramps (or wild leeks) are wild onions that resemble scallions. This spring delicacy is usually compared to a combination of onions and garlic. Asparagus, with its grassy green flavors, and ramps make for an elegant, casual soup. The best part of this creamy soup is that no cream is used. The cayenne pepper gives a great kick and the lime adds a fresh finish. Serve for a lovely first course or with crusty bread for a light lunch.
Asparagus and Ramp Soup    (lightly adapted from First Mess)
Serves 4
2 tsp olive oil
12-15 ramps/wild leeks, chopped (or 3 large leeks/white part only)
1 medium waxy potato, peeled and diced
1 bunch of asparagus, cut into 1-2 inch lengths
1/2 tsp ground cayenne pepper
Big splash of dry white wine
Salt, pepper
4-5 cups vegetable stock
1 lime, juiced
Heat the olive oil in a large soup pot over medium heat. Add the chopped white ramp bulbs to the pot (or leeks). Stir and cook until slightly softened. Add the diced potato, asparagus and cayenne. Saute the vegetables for about a minute. Add wine, simmer for a few minutes. Season with salt and pepper to taste. Cook for a few more minutes.
Add the vegetable stock to the pot. Cover the vegetables by about an inch and bring the mixture to a boil. Simmer the soup until the potatoes are just tender, about 10 minutes. Remove from the heat.
Blend the soup in batches in your blender to puree. Add the lime juice to the pureed soup and stir to combine. Taste for seasoning. To serve, bring the pureed soup to a boil and serve. Garnish with asparagus curls, chives and sour cream (if desired).