Chipotle and Apple Turkey Burgers
June 9, 2013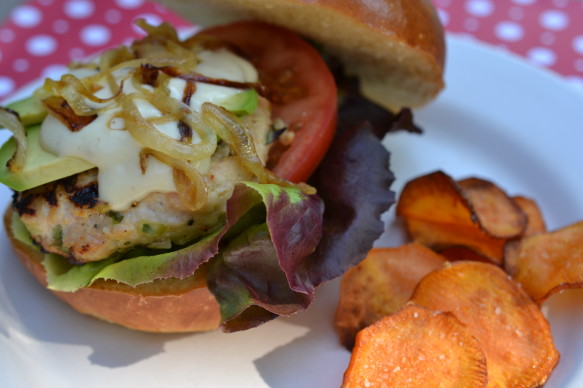 I am always looking for a good turkey burger. Be honest…. most turkey burgers will leave you choking for liquids!!! You're welcome…. the search is over. This recipe had me at chipotle. Apples, celery, garlic and onion all combine for a burger even my husband will eat! His reaction,  "I would order this over any burger."  The ingredients create a healthy alternative that's moist, has texture and a bit of a kick!! Serve with baked sweet potato chips! Happy grilling!
Chipolte and Apple Turkey Burgers         
Serves 4
Turkey Burgers
1 tablespoon of olive oil
1 celery stalk, finely chopped
3 green onions, finely chopped
4 cloves garlic, finely chopped
1 apple
1 pound ground turkey
1 teaspoon chile powder or 1 canned chile in adobo sauce, finely chopped   (I like mine spicy so I used 1 1/2 peppers!)
1/2 teaspoon of sea salt
1/2 teaspoon of ground pepper
2 tablespoons of fresh chives or thyme leaves
Herb Aioli
2 tablespoons mayonnaise
1 tablespoon dijon mustard
2 tablespoons chives, finely chopped
2 tablespoons basil leaves, finely chopped
A healthy squeeze of fresh lime juice
To Serve
Wheat buns, Butter lettuce, tomato slices, avocado slices, caramalized onions
First make the aioli by mixing together all its ingredients and setting it aside.
Heat olive oil over medium to med-high heat and saute the celery, green onions, and garlic until just browned. Turn off heat and set aside to cool.
Meanwhile grate your apple with a course grater. Combine the apple shreds, ground turkey, chili powder or chipotle chili, salt, pepper, chives, and sautéed mix in a large bowl and fold everything in together. Form into 4 patties.
Heat your grill to med.-high. Cook the burgers until the interior reaches 175F on an instant read thermometer, about 5-7 minutes on each side. Transfer to a plate and cover loosely with foil.
Grill your bun. Spread with aioli and add the toppings.
Slightly adapted from: The Sprouted Kitchen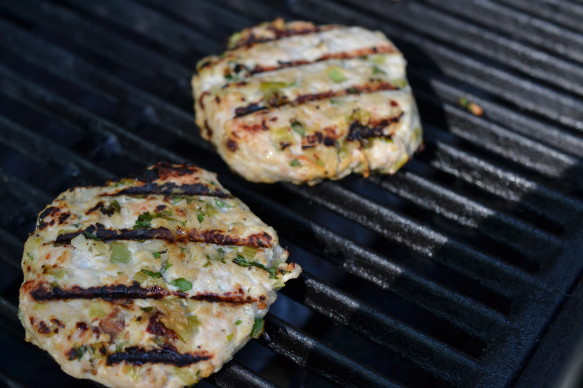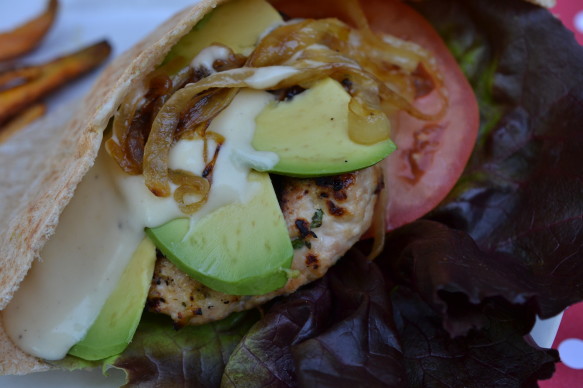 I like mine on a wheat pita!