Caprese Eggs Benedict
June 13, 2013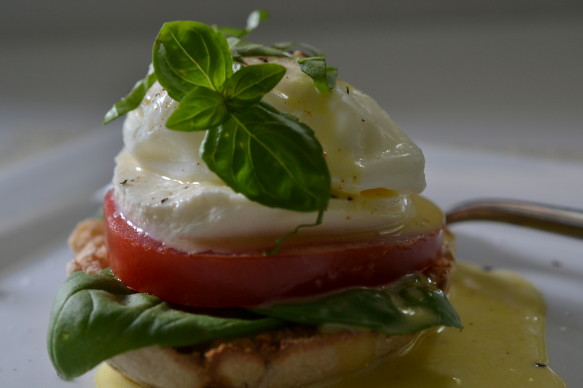 I'm taking a new twist on a traditional Italian staple, The Caprese Salad. This classic is simplicity at it's best!!! Mild mozzarella, bright seasonal tomatoes and freshly picked basil are the perfect combination of summer flavors. Make it an appetizer…make it a salad….I'm makin' it for breakfast!!! Leftover's from your evening party will turn "Eggs Benedict" into  la colazione preferita!
Caprese Eggs Benedict
Servings: 2
2 English muffins, toasted
2 eggs, poached (how to make the perfect poached egg)

1 large tomato, sliced
4 ounces (about half one 8-ounce mozzarella ball), sliced
1/2 cup fresh basil leaves, lightly packed
Garnish: chives or ribbons of basil
Hollandaise Sauce       (adapted from Tyler Florence)
Makes 1 cup               (I halved this recipe and  thought it was plenty for 2 servings)
4 egg yolks
1 tablespoon freshly squeezed lemon juice  (or a bit more)
1/2 cup unsalted butter, melted (1 stick)
Pinch cayenne
Pinch salt
Vigorously whisk the egg yolks and lemon juice together in a heat tolerant bowl and until the mixture is thickened and doubled in volume. Place the bowl over a saucepan containing barely simmering water (or use a double boiler,) the water should not touch the bottom of the bowl. Continue to whisk rapidly. Be careful not to let the eggs get too hot or they will scramble. Slowly drizzle in the melted butter and continue to whisk until the sauce is thickened and doubled in volume. Remove from heat, whisk in cayenne and salt. Cover and place in a warm spot until ready to use for the eggs Benedict. If the sauce gets too thick, whisk in a few drops of warm water before serving.

Chives or ribbons of basil for garnish
To assemble: Place the fresh basil on top of the toasted English muffin.  Top with tomatoes, mozzarella, and poached egg. Salt and pepper to taste. Lightly drizzle the hollandaise sauce over top. Garnish.