German Chocolate Cake Sundae
June 21, 2013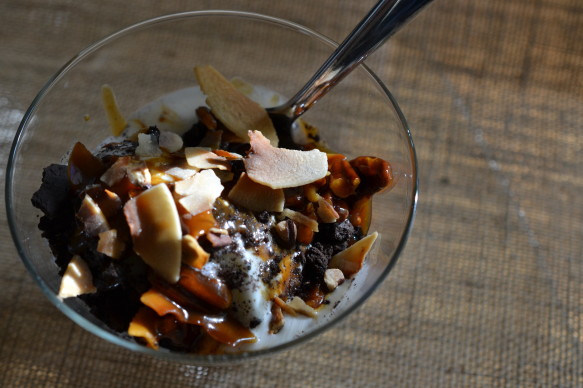 Randy's favorite cake is German Chocolate. My Dad's favorite cake was German Chocolate. (Strange…the only two people I know who love this cake). It was Father's Day and this seemed like the perfect dessert….but I don't make cakes! I do however love the traditional flavors of this classic….chocolate, caramel, pecans and coconut. Why not make a sundae? I'm happy to report I no longer need to stress about delivering that cake for special occasions. Randy said that this was the best dessert he had ever eaten!!
German Chocolate Cake Sundae     (adapted from Food and Wine)
Serves 6
1 cup unsweetened wide-flake coconut chips (2 ounces)
3/4 cup pecan halves (2 ounces)
1 cup granulated sugar
2 tablespoons light corn syrup
3/4 cup heavy cream
1 teaspoon pure vanilla extract
Pinch of sea salt
2 pints coconut ice cream
1 cup coarsely crumbled chocolate wafer cookies
Preheat the oven to 350°. Spread the coconut and pecans in 2 separate pie plates. Toast the coconut for 5 minutes and the pecans for 10 minutes, until the edges of the coconut start to brown and the pecans are fragrant. Let the coconut and pecans cool, then coarsely chop the pecans.
Meanwhile, in a large saucepan, combine the granulated sugar with the light corn syrup and 2 tablespoons of water. Bring to a boil, stirring to dissolve the sugar. Cook the syrup over moderately high heat without stirring until a deep amber caramel forms, about 5 minutes. Remove from the heat and carefully add the cream. When the bubbles subside, stir to combine. Add the vanilla and salt and let cool slightly. Stir in the toasted pecans and all but 1/4 cup of the toasted coconut chips.
Scoop the ice cream into 6 glasses and sprinkle with half of the cookie crumbs. Top with the warm caramel sauce and the remaining cookie crumbs and coconut. Serve right away.
MAKE AHEAD The caramel sauce can be refrigerated overnight. Reheat in the microwave, then stir in the pecans and coconut.