Maine Lobster Roll
June 26, 2013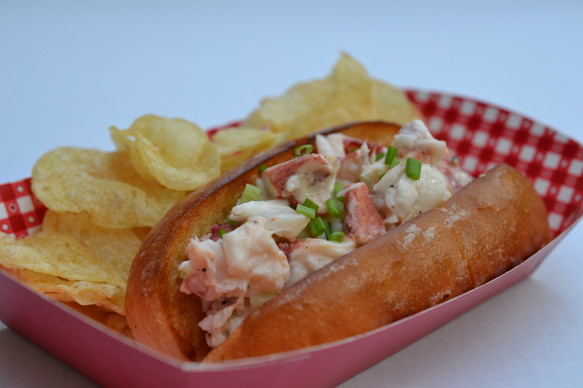 The last time I visited my sister Laura in Connecticut we drove from her home to the Maine coast. Our daily routine consisted of pulling into weathered roadside shacks in search of the perfect lobster roll. Oh...and we found them!! Lots of them. The Maine lobster roll features sweet, succulent lobster meat piled into a buttery toasted split-top roll. Add mayonnaise, a hint of lemon, celery (for crunch) and it's time to chow. If you can't make it to the east to experience the natural beauty of the rocky, rustic coastline, lighthouses, red-painted barns and this local favorite….then re-create the traditional Maine lobster roll at home.
Lobster Rolls        (Adapted from  Pearl Oyster Bar)

*Makes 2-4
1 pound cooked lobster meat, chopped roughly into 1/2 and 3/4-inch pieces
1 small celery rib, finely chopped
2-3 tablespoons mayonnaise (Hellman's)
1-2 tablespoons freshly squeezed lemon juice
Pinch of kosher salt and freshly ground black pepper
2 (or 4)  top-split hot dog buns   (hard to find in the midwest….found them at Panera Bread!)
Unsalted butter
Snipped fresh chives for garnish
In a large bowl, combine the lobster meat, celery, mayonnaise, lemon and salt and pepper and mix thoroughly. Adjust seasonings to taste. Refrigerate. This mixture will last for 2 days. Melt a few tablespoons of butter in a saute pan and toast the insides of the bun til golden. Then toast the outsides. This is the key to the perfect lobster roll!
If you can't find lobster meat or not in your budget……..re-place lobster with shrimp!
*I made 4 rolls out of the 1 pound of lobster meat. The recipe called for 2 servings (they would be HUGE)