Summer Corn Pasta
July 7, 2013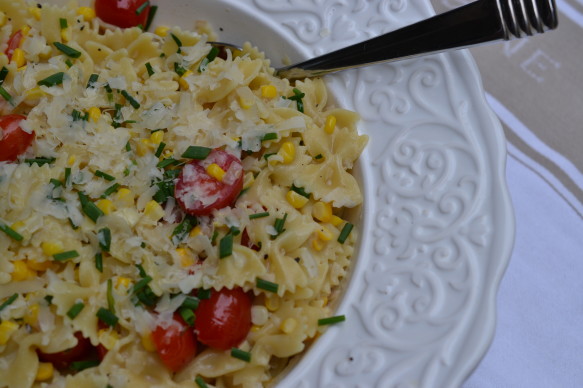 Back on a beautiful Saturday afternoon in May when all the neighbors came out after our winter hibernation, I met my neighbor Courtney. Oh, I've known Courtney for the last few years but what I mean is I really met Courtney. Her son Logan was over playing with my husband (!) and Courtney came to retrieve him with her new baby Beckett. After asking about her job she informed me she is home with the kids and has a food blog. Off and running!!! Love her blog. Check it out…. A Life From Scratch. Refreshing meal planning tied in with a lifestyle twist. We've had lots of fun since that May Day…. trading, testing, and chatting recipes. This pasta recipe is from ALFS blog adapted from Curtis Stone. Perfect for summer entertaining.
Summer Corn Pasta               (Adapted from Curtis Stone)
1 pound bow-tie pasta (farfalle)
2 tablespoons olive oil
1/2 cup thinly sliced shallots
6 garlic cloves, finely chopped
1 cup dry white wine
4 large sprigs of fresh thyme
2 cups fresh corn kernels (cut from about 4 ears)
1/4 cups heavy cream
Kosher salt and freshly ground black pepper
1/2 pint cherry tomatoes, halved
1/2 cup freshly grated Parmesan cheese
1/4 cup chopped fresh chives
Bring a large pot of salted water to a boil over high heat. Add the pasta and cook for about 7 minutes, tender but firm to bite.
Meanwhile, heat a large heavy skillet over medium heat. Add the olive oil, then shallots and garlic.  Cook, stirring occasionally,  about 3 minutes, til tender. Add the wine, thyme, and raise the heat to medium-high. Cook for about 5 minutes, or until the liquid is reduced by three-quarters.
Add the corn and cream and bring to a simmer. Reduce the heat to medium-low and simmer gently, stirring occasionally, for about 2 minutes, until the corn is hot. Keep the sauce warm over very low heat.
Scoop out and reserve 1/2 cup of the pasta water and drain the pasta. Add the pasta to the corn sauce and toss to coat. Add enough of the reserved pasta water to adjust the sauce to the desired consistency. Season to taste with salt and pepper. Gently mix in the tomatoes and sprinkle with the Parmesan cheese, chives, and pepper.