Maryland Crab Cakes with Lemon Aioli
July 10, 2013
This crab cake is delicious. I've tried plenty of recipes over the years in search of the cake that really holds together. The key is to not overmix and to chill the mixture in the fridge so it can "set up." With minimal ingredients, this recipe really lets the crab shine through. Most recipes call for pan frying …well I bake them for less fuss and more stability. You may want to toast mini bread rounds as a base for easy serving. This is such a simple recipe for such a show stopper. Plan on 8 entrée size cakes or 30 minis. To serve… top with lemon aioli and chives.
Maryland Crab Cake with Lemon Aioli
1 lb. jumbo lump or backfin lump crabmeat, fresh or pasteurized (Thank you Diamond Fresh Seafood)

1 large egg
1/4 cup mayonnaise
1-1/2 tsp. Dijon mustard
1-1/2 tsp. Old Bay seasoning
1 tsp. fresh lemon juice
1/2 tsp. Worcestershire sauce Kosher salt
1-1/4 cups fresh breadcrumbs (from white sandwich bread) More slices for bread rounds if your making mini crab cakes
1 tablespoon chopped fresh flat-leaf parsley
2 tablespoon unsalted butter
1 tablespoon olive oil
Lemon wedges
Drain the crabmeat, if necessary, and pick through for shells. Put the crab in a medium mixing bowl and set aside.
In a small bowl, whisk the egg, mayonnaise, mustard, Old Bay seasoning, lemon juice, Worcestershire sauce, and 1/4 tsp. salt. Combine the mixture with the crab and mix gently until  combined. Gently break up the lumps with your fingers but do not overmix.
Sprinkle the breadcrumbs and the parsley over the mixture, and mix them in gently. Again do not over mix, this should be somewhat loose. Cover with plastic wrap and refrigerate for 1 to 3 hours.
For mini crab cakes: preheat oven to 375 degrees. Using a 2 inch ring mold cut out bread and place in oven for approx 10 minutes until lightly toasted. Using the 2 inch rings put 1 tablespoon of crab in each mold and place cakes on baking sheet,  brush with a bit of olive oil and butter (optional). Bake for approximately 20 minutes. (I think this method is easier than pan cooking).
OR ALTERNATIVE METHOD OF COOKING…..

Shape the crab mixture into 8 cakes about 1 inch thick. In a nonstick skillet, heat the butter with the olive oil over medium heat. When the butter is frothy, add the cakes to the pan . Cook until dark golden brown on the underside, about 4 minutes. Flip the cakes, reduce the heat to medium low, and continue cooking until the other side is well browned, 4 to 5 minutes. Serve with lemon aoili and lemon wedges.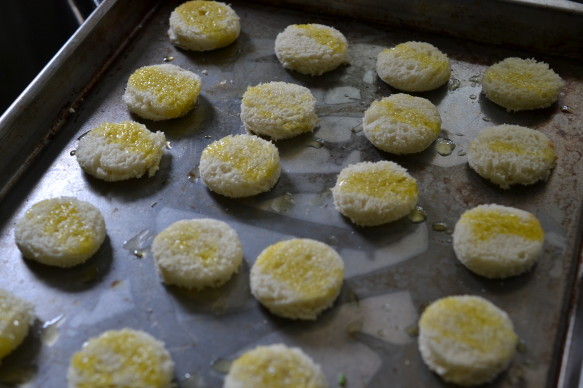 Lemon Aioli:
1/2 cup mayonnaise
1 clove garlic, minced
1 tablespoon chopped chives
3 tablespoons lemon juice
1/2 teaspoon lemon zest
Kosher salt and freshly ground black pepper
In a medium bowl, mix all the ingredients together.