Sweet Potato Chips
July 12, 2013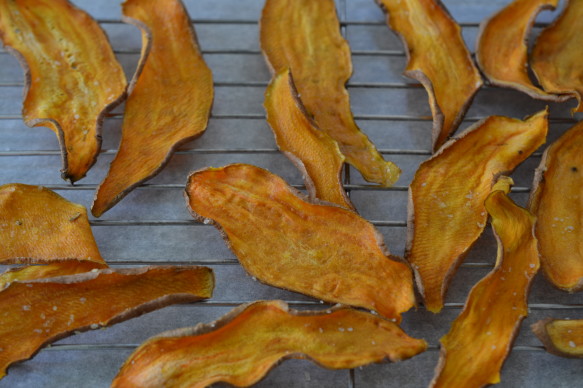 File this under….needed to be documented. The kids have called for this simple, healthy snack recipe so often that I felt it just needs to be on the record (blog)!! A couple things differ with this method than others…..first, the length of the slice and second, the slow cooking process. Many recipes have high cook times and a quick bake. I find the slower method yields crunchier chips. Using a mandoline is ideal however, turn on the RED CAUTION light!!! Don't make me tell that story……….wear gloves or use the safety handle!!!!!!  Enjoy with your summer burgers!
Sweet Potato Chips
Yields approx. 50 chips
2 large Sweet Potatoes
Kosher salt
Olive Oil
Preheat the oven to 250 degrees. Scrub the potatoes until clean. Using a mandoline or a knife, slice the potatoes lengthwise into thin slices, about 1/8-inch thick. In a large bowl, toss with 2 tablespoons of olive oil and sprinkle with salt. Place potato slices on parchment lined sheet trays and cook for 1 to 1 1/2 hours, flipping half way through. Remove from the oven once crisp and slightly golden brown. Season with additional salt if desired.
Alternative Cooking Method:  400 degrees for 20-25 minutes. Keep a close watch the last 5 minutes.