Momofuku Ginger Scallion Noodles
July 18, 2013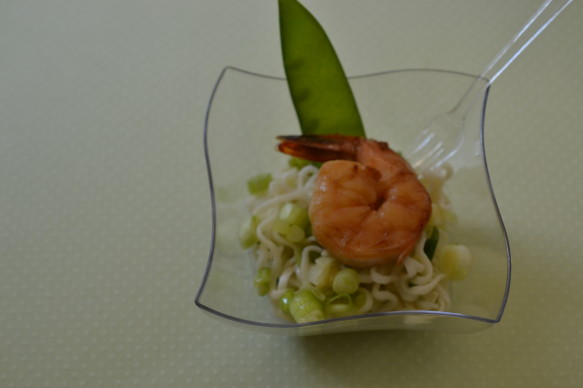 This is not just another noodle dish. It's special…with only six ingredients! Quoting David Chang himself, "Ginger Scallion Sauce is one of the greatest sauces or condiments ever. Ever. It's definitely a mother sauce at Momofuku, something that we use over and over and over again." I'm sold and you will be too. Chang compliments the noodles with roasted cauliflower and pickled cucumbers. You can add pretty much anything (seared tofu, pork, vegetables) to this recipe. I chose shrimp for the protein and pea pods. Serve as an entrée or an appetizer.
Momofuku Ginger Scallion Noodles
2 1⁄2 cups thinly sliced scallions (greens and whites, 2 to 3 large bunches)
1⁄2 cup finely minced peeled fresh ginger
1⁄4 cup grape seed or other neutral oil
1 1⁄2 teaspoons usukuchi (light soy sauce)
3⁄4 teaspoon sherry vinegar
3⁄4 teaspoon kosher salt, or more to taste
6 0z. ramen noodles (or rice noodles)
Pea pods and Shrimp (*marinated) medium size, peeled and deveined
Mix together the scallions, ginger, oil, soy, vinegar, and salt in a bowl. Taste and check for salt, adding more if needed. Though it's best after 15 or 20 minutes of sitting, ginger scallion sauce is good from the minute it's stirred together up to a day or two in the fridge. Boil 6 ounces of ramen noodles, drain, toss with 6 tablespoons ginger scallion sauce; top the bowl shrimp and sliced peapods. Optional: Randy drizzled a little soy to finish and I drizzled a bit of chili oil. Great at room temp. or chilled.
*I marinated the shrimp in 1/3 cup soy sauce, 1/4 cup rice vinegar, 2 tablespoons sesame oil, 2 teaspoons minced garlic, 1 tablespoon fresh grated ginger, 1 tablespoon green onion and pepper. Whisk together all ingredients. Makes 1 cup. Marinated for 1/2 hour or up to 2 hours. Saute approx. 3 minutes or pink in color. You already have most of these ingredients for the noodles!!