Rustic Cherry Tart
July 24, 2013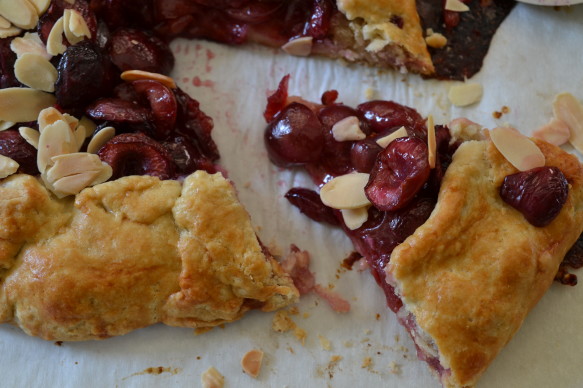 I needed a dessert and I needed one fast! We had family in for 5 days and I really didn't plan a lot of sweet endings. While this may have been an oversight, a quick review of my pantry came up a winner. All ingredients were in the house, so without going to the market, I created this overstuffed treat…Rustic Cherry Tart! Using summer's bounty of cherries, this tart saved me……tart's always seem to save me! (Don't overlook this fruit's reputation as a nutrient packed superfood!)
Rustic Cherry Tart      (Adapted from Kitchen Simplicity)
Serves 8
Pastry
1 1/3 cups all-purpose flour
3 tablespoons sugar
1/4 teaspoon salt
7 tablespoons cold butter, cut up
3-6 tablespoons ice cold water
Filling
1 pound (approx. 3 cups) sweet cherries, halved and pitted
1/3 cup sugar
1 tablespoon cornstarch
1 tablespoon fresh lemon juice
Finish
egg wash (1 egg white, 1 teaspoon water, whisked together)
1/2 tablespoon sugar
1/4 cup toasted almonds
For the Pastry Dough: Combine flour, sugar and salt. Using your fingers, quickly break up the butter, tossing it in the flour mixture, until the butter is roughly the size of peas.  Add water 1 tablespoon at a time, tossing together with a fork, until the dough sticks together to form a ball.  (Make sure it sticks together easily without being sticky to the touch.) Roll the dough out onto a lightly floured piece of parchment paper, into a 14 inch circle. Transfer the parchment and dough onto a baking sheet.
Mix together filling ingredients until evenly coated. Pour onto the center of the tart and spread out to within 2 inches of the edge. Fold up the edges to keep the filling inside.
Brush the pastry with egg wash and sprinkle with sugar.
Bake at 375 degrees for 50 minutes to 1 hour, or until filling is bubbly and crust is golden brown. Allow to cool completely before slicing and serving. Sprinkle with slivered almonds.