Mango Peach Salsa
August 31, 2013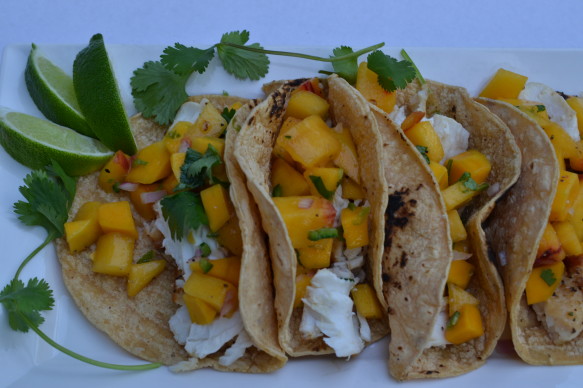 August is national peach month. This is evident by the abundance of peaches at your local farmers market. Peach salsa is a great way to utilize all the fresh produce available and is incredibly versatile. A perfect summer condiment! It's a sweet and spicy companion for any grilled meat, fish, added to a salad or just serve with tortilla chips. I'm pairing the salsa with fish tacos…yum!!!
Mango Peach Salsa
Makes approximately 2 cups
1 mango, peeled and cubed
2 peaches, peeled and cubed
3 tablespoons red onion, chopped
1 jalapeno, seeded and diced
1 lime, juice and zest
1 tablespoon olive oil
Salt and pepper to taste
1/4 cup cilantro
**for tacos; 1 pound halibut (salt/pepper, sautéed in canola oil 3-4 minutes per side)                                                  4 corn tortillas
Toss all the peaches, mango, onions, jalapeno, lime juice, oil and cilantro together in a large bowl. Season with salt and pepper and refrigerate at least 1 hour before serving.