Thai-Style Grilled Corn Soup/ Spring Rolls And Dipping Sauce
September 6, 2013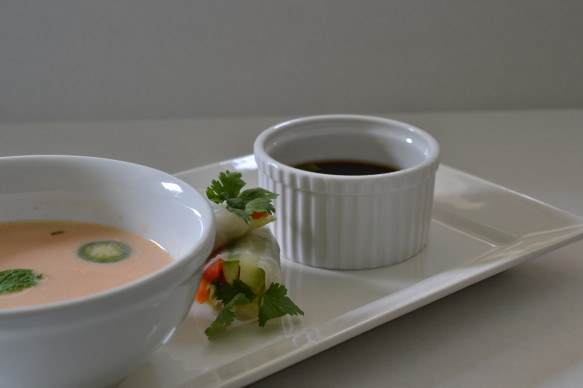 This meal came from cleaning out the vegetable drawer after a busy weekend. Leftover grilled corn, miscellaneous farmstand vegetables and fresh herbs from the garden were all on hand. A quick run to Whole Foods to pick up the wraps and coconut milk……and a fresh, healthy dinner done. This meal hit the spot after two dinners out last weekend. Now… back on the right track!!
Thai-Style Grilled Corn Soup / Spring Rolls and Dipping Sauce        (Soup: adapted from Fine Cooking)
Serves 4
2 medium ears corn, shucked and silks removed
Olive oil, for brushing
Kosher salt and freshly ground black pepper
2 cups lower-salt chicken broth
1 14-oz. can light unsweetened coconut milk
1 tablespoon red curry paste (more to taste)
2 tablespoons fresh lime juice
1 tablespoon fish sauce
1 tablespoon finely grated lime zest
2 tablespoons chopped fresh cilantro
Thinly sliced fresh hot red chile, for garnish
Prepare grill. Brush the corn with oil and season with salt and pepper. Grill the corn 8 to 10 minutes. Cut the kernels off the cobs.
In a medium saucepan, whisk together the chicken broth, coconut milk, and curry paste over medium-high heat until simmering, about 2 minutes. Add the corn and simmer, stirring until hot, about 3 minutes.
Off the heat, stir in the lime juice, fish sauce, lime zest, and 1/4 tsp. salt. Serve garnished with the cilantro and chiles.
Dipping Sauce
3 tablespoons  rice wine vinegar
1/4 cup dark tamari soy sauce
1/2 teaspoon sugar
1 scallion, finely chopped
1 teaspoon toasted sesame oil
Spring Rolls
Makes 8-10
Spring roll wrappers
1/2 cup thin rice noodles, prepared as instructed
3 romaine lettuce leaves, sliced thin
5 green onions, sliced thin
1/4 cup fresh herbs (use cilantro, basil or mint)
1/2 cup carrots, grated or julienned
12 small shrimp (optional)
1 tbsp lime juice
1 tbsp soy sauce
1/2 tsp fresh ginger, grated