Grilled Sweet Onions With Blue Cheese And Balsamic Glaze
September 12, 2013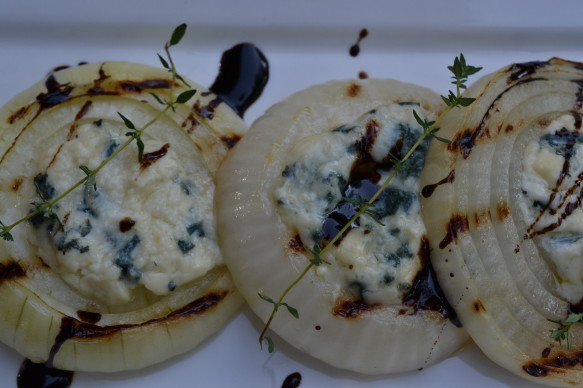 One of our favorite sides this summer has been grilled sweet onions and blue cheese, drizzled with balsamic glaze.  The lightly charred sweet onions balance the salty richness of the cheese….making it the perfect combination. I used skewers to keep the rings together to make flipping easier. This is a delicious accompaniment for your favorite grilled meats. We love them along side a grilled strip steak!!
Grilled Sweet Onions With Blue Cheese And Balsamic Glaze
2 sweet onions, sliced approximately 1/2″ thick ( I used just the center slices to make the same size…about 4-6 slices)
4 tablespoons blue cheese
Balsamic glaze
Olive oil
Salt and pepper
4 skewers
Soak skewers for 15-30 minutes. Heat grill. Slide skewer through onion to hold the rings together. Brush with olive oil, salt and pepper. Place on grill and cook for approximately 10 minutes or until grill marks show. Turn onions and place blue cheese in center. Cook until cheese is melted. Place on platter and drizzle with glaze.