Warm Mushroom Salad
October 8, 2013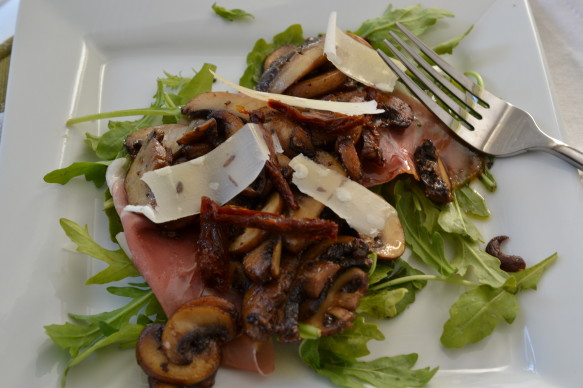 Iconic Fall Flavors: apples, squash, pears, pumpkin, and MUSHROOMS! The cool air combined with rain means we are in mushroom season. No, I'm not going foraging in my woods for these tasty morsels…..or am I?? Look what's growing on our back forty!! Puffer mushrooms. The giant pufferball is a whitish, styrofoam-like globe. Yes, it's edible (but not by me!!!) However, the kid's middle school science teacher enjoyed a lovely saute of these mushrooms years ago after it was a "show and tell" item. And… I hear he's still around! This recipe calls for baby bellas to create an earthy salad that can stand alone or on top of a grilled steak. This warm salad embodies fall with its earthy rich flavor, and has a hint of meaty undertones. Take advantage of this season's forest fungi as they are high in fiber and vitamins… fat and cholesterol free.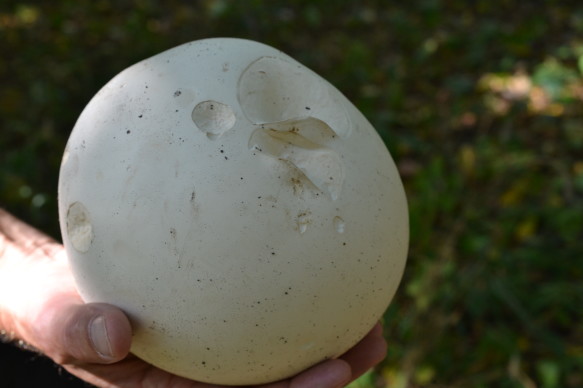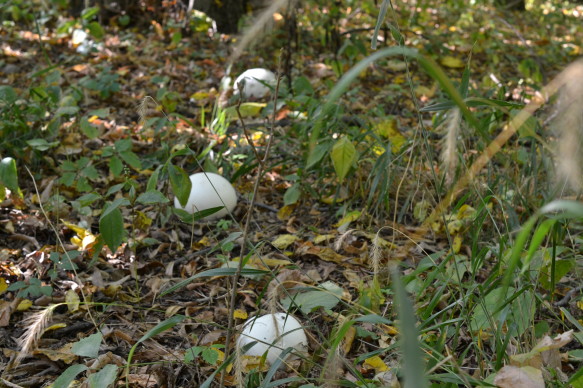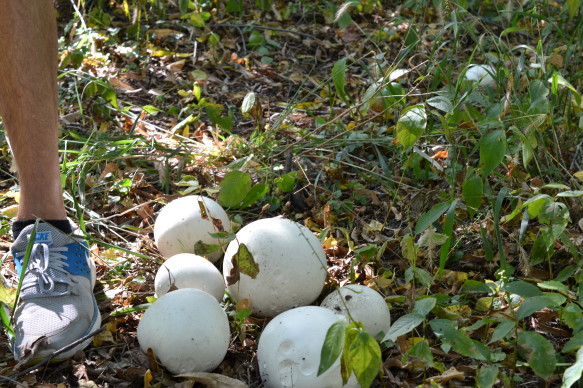 Warm Mushroom Salad         (Adapted from Ina Garten)
Serves 4
1 pound cremini mushrooms
2 tablespoons unsalted butter
4 tablespoons good olive oil, divided
1 teaspoon kosher salt
1/2 teaspoon freshly ground black pepper
4 bunches of fresh arugula, washed and spun dry
8 slices good Italian prosciutto
2 tablespoons sherry wine vinegar
Chunk of Parmesan cheese
8 sun-dried tomatoes in oil, drained and julienned
Fresh flat-leaf parsley leaves
Clean the mushrooms by brushing the tops with a clean sponge. Don't wash them! Remove and discard the stems and slice the caps 1/4 to 1/2 inch thick. In a large saute pan, heat the butter and 2 tablespoons of the olive oil until bubbly. Add the mushrooms, salt, and pepper to the pan, and saute for 3 minutes over medium heat, tossing frequently. Reduce the heat to low and saute for another 2 to 3 minutes, until cooked through. Meanwhile, arrange the arugula on 4 lunch plates and cover each portion with 2 slices of prosciutto. When the mushrooms are cooked, add the sherry vinegar and the remaining 2 tablespoons of olive oil to the hot pan. Spoon the mushrooms and sauce on top of the prosciutto. With a vegetable peeler, make large shavings of Parmesan cheese and place on top of the hot mushrooms. Sprinkle with the sun-dried tomatoes, parsley leaves, salt, and pepper. Serve warm. Alternative: Serve over a grilled steak.