Vegetable Lasagna
October 16, 2013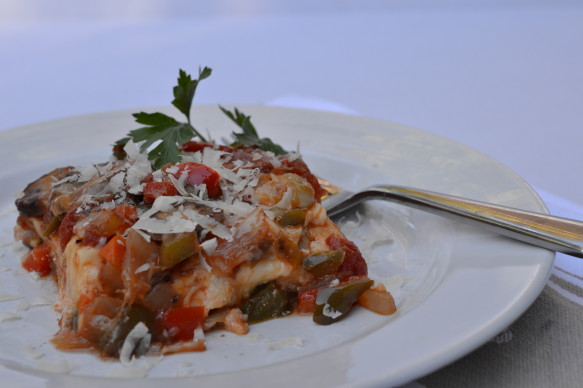 My veggie lasagna is one of Randy's favorite recipes. He started asking (begging) for this a couple of weeks ago. Typically this lasagna shows up when the air is a bit crisper and football season is a few weeks further along. It's about 60 degrees and we have a leisurely Sunday on our hands….perfect for a day of cooking. Just the kind of day I want the house to smell like the perfume of garlic, onions and tomato sauce. In this healthy version of lasagna you will not miss the meat. The mushrooms create a hearty, "meaty" texture while the peppers add a sweet note. I use light ricotta and half skim mozzarella. I'm not normally a fan of skimping on the cheese but you don't need it….honest. To save time and an additional step try using Barilla NO bake lasagna noodles. 

Vegetable Lasagna
1 medium onion, chopped
4 garlic cloves, minced
1 lb of baby bella mushroom, sliced (or any combo)
2 green peppers, chopped
1 red pepper, chopped
2 carrots, chopped
1 celery, diced
1  28 oz can Italian peeled tomatoes (preferably San Marzano)
10 oz lasagna NO BAKE  noodles (Barilla)
2 sprigs thyme
4 basil leaves, torn
1/4 teaspoon cinnamon
salt/ pepper
15 oz ricotta/ part skim
4 cups mozzarella ( or 3/4 pound sliced mozzarella)
1/2 cup grated parmesan
In a large skillet add olive oil, onion. Cook til limp about 2-3 minutes. Add garlic, cook for 1 minute. Add mushrooms, peppers, carrots, and celery. Cook until vegetables are soft, about 20 minutes. Pour in the tomatoes with juices. You can crush the tomatoes with your hands or use a masher to crush them. Season with thyme, basil, cinnamon, salt and pepper. Adjust seasonings to taste. Bring sauce to a gentle boil then turn the heat down and simmer for 40 minutes or until the sauce thickens up a bit.
Preheat oven to 350 degrees. To assemble lasagna start with spreading a couple of tablespoons of sauce to a casserole pan. Next lay a layer of noodles. Spread ricotta onto the noodles. Then layer with mozzarella. Finally, spoon about 1/3 of the sauce.  REPEAT. Noodles, ricotta, mozzarella and sauce. (YOU could repeat another layer but….) I then finish with noodles, sauce and lots of shaved parmesan. Serve with crusty bread and a crisp green salad. Enjoy…. we will be for days.