Quick Rick Bayless Shrimp Taco
October 24, 2013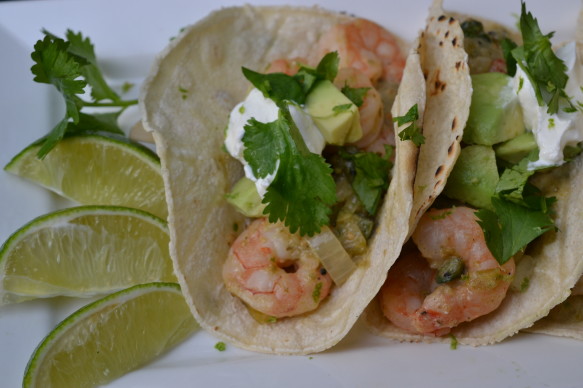 Do you need a quick weeknight dinner idea? This is my new go-to!!! I feel like I'm cheating by using a pre-packaged sauce however, this is Rick Bayless…why mess with perfection? I'm lucky to be in the same city where I can sample the genius of Bayless' moles and other sauces. Many of his moles take a multitude of ingredients and lots and lots of time to make. SAVE yourself. This key-lime cilantro taco skillet sauce and shrimp will have your meal on the table within 15 minutes.
Shrimp Tacos
1 onion, thinly sliced
1 poblano chili, thinly sliced
2 tablespoons olive oil
1 pound medium shrimp, peeled deveined
1 pouch Frontera sauce
Garnish: avocado, sour cream, cilantro, lime zest
Heat 1 tablespoon oil and saute onion and poblano pepper til soft. About 4 minutes. Remove top plate. Add 1 tablespoon oil to skillet and add shrimp. Cook until opaque about 3-4 minutes. Combine onion mixture and sauce to pan. Heat til warm. Heat tortillas, add shrimp mixture. Garnish with avocado, sour cream, cilantro and lime zest.