Apple Brandy And Cider Cocktail: Rhine Hall Distillery
October 29, 2013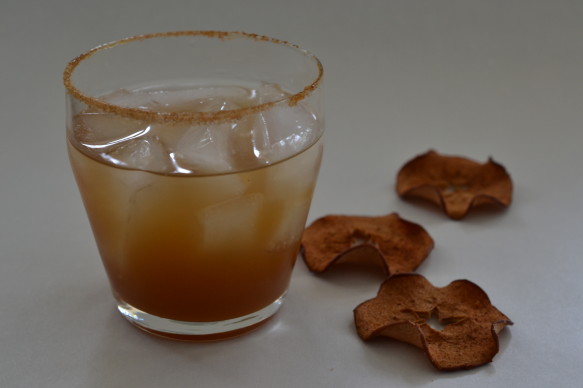 A handful of boutique distilleries are up and running in Chicago…. none serving Apple Brandy. Enter Rhine Hall, a hard-working father daughter team, passionate about the old school distilling process. Why apple brandy? It's a great family story, well documented in the most recent Redeye and Chicagogrid. Randy and I are particularly happy the original apple crushing equipment has been upgraded from the 1970's Schwinn exercise bike belted to a pulley, attached to a grinder operated in the family garage!! Randy (see below) was personally fueled (bribed!) by one of Charlie's famous German beers. We are wishing Jenny and Charlie the best as the grand opening is only days away. As neighbors and friends we hope to also be frequent patrons. Jenny has given me the recipe for a brandy drink that will be featured in the Rhine Hall tasting room. It's a perfect seasonal cocktail that will pair well with this chicken chili.
Double Time
1.5 oz Rhine Hall apple brandy
1 oz homemade Rhine Hall cider
3 splashes of Angostura bitters
A dash of cinnamon
Serve over ice in an old fashioned glass
Cinnamon and sugar rimmed glass: use a lemon to wet the rim and place glass in a dish of cinnamon mixture.
Apple Garnish
Using a mandolin, slice the apple. Preheat oven to 225 degrees. Line a sheet pan with parchment paper. Sprinkle apple slices with cinnamon sugar mixture. Bake for 1  hour, turn slices over and bake for an additional 1 hour. Turn oven OFF and let the apples cool in the oven completely. They will crisp up in the oven.