Sweet and Spicy Brussels Sprouts
November 30, 2013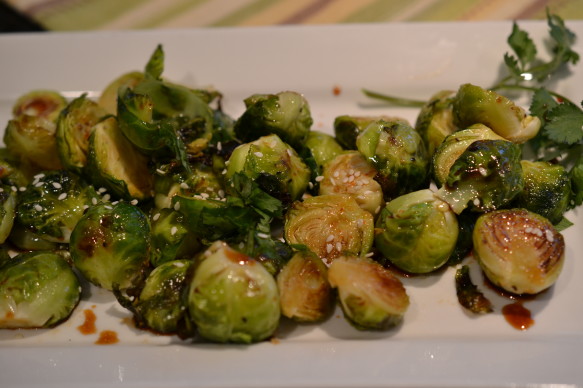 Take advantage of the seasonal sprouts and dress them up in a non-traditional fashion. This recipe calls for glazing them with a spicy-sweet combination of soy, rice vinegar, sugar and Siracha. To make this a complete meal I paired the sprouts with Ahi Tuna. The glaze worked beautifully as a marinade and then I lightly seared the tuna. A delicious combo!!!
Brussels Sprouts    (Adapted from JeanMarie Brownson) 
Serves 6
2 lbs small Brussels sprouts (about 60)
1/4 cup canola or safflower oil
1/2 cup soy sauce (or light)
1/4 cup rice vinegar
1/4 cup sugar
1 or 2 tablespoons of Siracha (or 1 to 2 teaspoons of crushed red pepper flakes)
1 teaspoon dark sesame oil
2 tablespoons cilantro, chopped
2 tablespoons green onions, chopped
2 tablespoons sesame seeds
Preheat oven to 400 degrees. Trim ends of the sprouts and cut them in half. Put the halves onto a non-stick baking sheet. (You may need 2 pans) Drizzle with oil, toss well to coat evenly. Roast the Brussels sprouts, stirring them every 10 minutes. Cook until the exteriors are golden about 30 minutes. Meanwhile, put soy sauce, vinegar and sugar into a small saucepan. Heat to a boil under medium heat. Boil gently until the mixture is reduced and slightly thickened, about 5 minutes. Remove from heat and add Siracha or pepper flakes. Stir in sesame oil. Toss the hot sprouts with enough sauce to coat. Arrange on serving platter and sprinkle with cilantro, green onions and sesame seeds.