Chicken Liver Pate with Green Peppercorns
December 7, 2013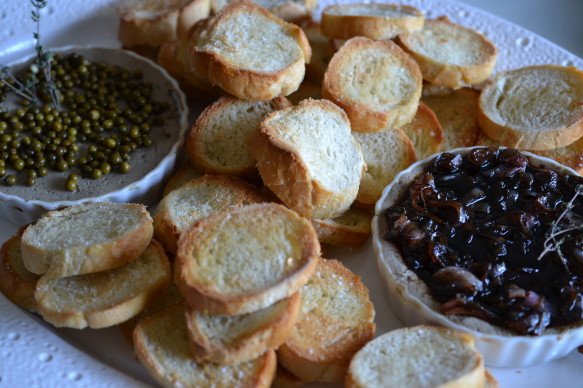 Have you ever had a food flashback??!! Well, here's mine. I haven't thought of this story for years until I made liver pate over the holiday. Years ago (o.k …many) I planned a trip to visit my good friend Mark at the Culinary Institute of America. Flying to NYC with a connecting flight to Poughkeepsie (in January!) had a few hiccups. The puddle jumper to the CIA was cancelled leaving me stranded at JFK in a quandary. When the lovely couple in line behind me, also going to the CIA, heard my series of panicked questions they quickly stepped up and asked me to join them in the two-hour drive to our mutual destination.  A jolly man with considerable girth, silver hair, a sweeping white handlebar mustache and a foreign accent and his lovely wife with a quiet demeanour… proved (to say the least) an interesting couple. The scenic drive to upstate NY was filled with stories of living in Lincoln Park and our mutual love of food and architecture. Our arrival to the CIA took me by surprise. Pulling up to the school entrance, the red carpeted walkway was lined with chefs all decked out in their whites. The door opened to cheers and applause!! You can only imagine my shock and Mark's when he saw me get out of that limo!! It was now crystal clear who I was sharing my ride with… Chef Louie Szathmary and his wife Sada who owned and operated The Bakery on Lincoln Avenue in Chicago. The Bakery brought continental flair to the Chicago restaurant scene and Chef Louie was truly one of the first celebrity chefs. From that trip forward when Mark was able to get home, he and I became regulars at the Bakery. Ever hospitable, Chef Louie invited us into his kitchen and home located directly behind his restaurant. This experience was the beginning of my love of the culinary arts. Chef Louie always took excellent care of us….and every dinner started with liver pate.
Chicken Liver Pate    (Adapted from Emeril Lagasse)
1 pound fresh chicken livers, cleaned
1 cup milk
1 stick cold unsalted butter, cut into pieces
1 cup chopped yellow onions
2 teaspoons minced garlic
2 tablespoons green peppercorns, drained
2 bay leaves
1 teaspoon chopped fresh thyme leaves
1/2 teaspoon salt
1/2 teaspoon freshly ground black pepper
1/4 cup Cognac or brandy
Chopped parsley leaves, for garnish
French bread croutons or toast, accompaniment
French cornichons, optional accompaniment
In a bowl, soak the livers in the milk for 2 hours. Drain well. (I omitted this step)
In a large saute pan or skillet, melt 4 tablespoons of the butter over medium-high heat. Add the onions and cook, stirring, until soft, about 3 minutes. Add the garlic and cook until fragrant, about 30 seconds. Add the chicken livers, 1 tablespoon of the peppercorns, the bay leaves, thyme, salt, and pepper and cook, stirring, until the livers are browned on the outside and still slightly pink on the inside, about 5 minutes. Add the Cognac and cook until most of the liquid is evaporated and the livers are cooked through but still tender.
Remove from the heat and let cool slightly. Discard the bay leaves.
In a food processor, puree the liver mixture. Add the remaining butter in pieces and pulse to blend. Fold in the remaining 1 tablespoon peppercorns and adjust the seasoning, to taste.
Pack the pate into 6 individual ramekins or small molds, about 4 ounces each. Cover with plastic and refrigerate until firm, at least 6 hours.
To serve, place the ramekins on individual plates. Garnish the tops with parsley and surround with croutons. Serve with cornichons on the side. I added a few peppercorns on the top.
***In the photo above one of the pates I covered with a shallot jam. The recipe I used did not allow the jam to set up, HOWEVER,  the combination of oil, shallots, brown sugar, balsamic vinegar and salt with the chicken liver works well. I am now on a mission to perfect that topping.