Tuscan Kale Caesar Salad
February 8, 2014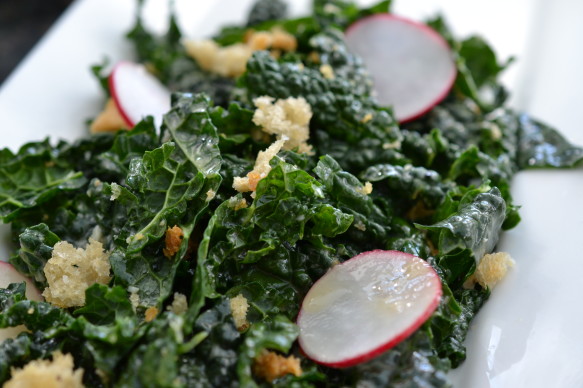 By now we all know the incredible health benefits of kale. Why not change up your classic Caesar salad with this super food and partner with a creamy bold dressing that holds up to this hearty green? I pre-tenderize the greens by massaging with a little olive oil, salt, pepper and let sit for 30 minutes. This technique allows the fibrous, chewy green turn to a tender-crisp texture. Add grilled chicken or shrimp for a complete meal. Bonus… the dressed salad stays crisp for up to 3 days!!
Tuscan Kale Caesar Salad
Serves 6
2 tablespoons fresh lemon juice, zest of 1/2 the lemon
2 garlic cloves
1/4  cup mayonnaise
1 teaspoon Dijon mustard
3/4 cup extra-virgin olive oil
1/2 cup finely grated Parmesan, divided
2 cups crusty bread crumbs
5 radishes, thinly sliced
Kosher salt and freshly ground black pepper
14 ounces** Tuscan kale, center stalks removed, thinly sliced crosswise (about 8 cups)
**Tuscan kale—also called cavolo nero or Lacinato—has long, narrow, bumpy dark-green leaves.
Preheat oven to 350 degrees. Using a food processor, chop bread in to peas size crumbs. Toss with a little olive oil, salt and pepper. Bake until crispy. approximately 20 minutes.
Combine the first 5 ingredients in a blender; purée until smooth. With machine running, slowly add 3/4 cups of oil, to make a creamy dressing. Add 1/4 cup Parmesan cheese and blend. Season to taste with salt and pepper. Cover and chill.  Dressing can be made 2 days ahead. 
Remove middle stalk of the kale leaves and chop. Toss kale with a bit of olive oil, salt and pepper. Massage oil into leaves and let sit for approximately 30 minutes. Arrange kale on your serving platter. drizzle with dressing. Top with remaining 1/4 cup Parmesan, crouton crumbs and radish slices.