Pork Tenderloin with Date and Cilantro Relish
February 16, 2014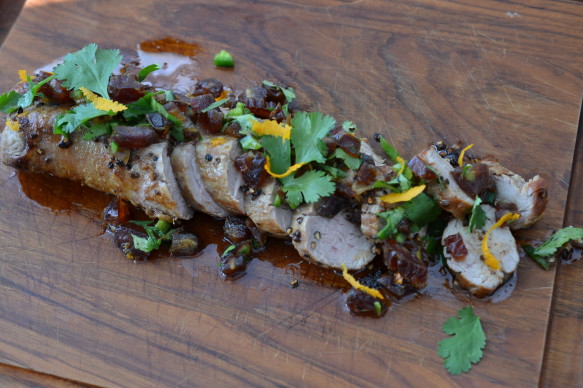 Pretty enough for a dinner party…easy enough for a weeknight dinner. These flavors work sooo well together…..sweet dates, tang from the orange, heat from the pepper, crunch from the walnuts and fresh herbal notes with the cilantro.
Pork Tenderloin with Date and Cilantro Relish
Serves 2-3
2 tablespoons olive oil, divided
1 pork tenderloin (about 1 1/2 pounds)*
Kosher salt, freshly ground pepper
1/2 cup Medjool dates, cut into small pieces
2 tablespoons fresh orange juice, and zest of half an orange (save some zest for garnish)
1/2 jalapeno pepper, diced
2 tablespoons walnut, toasted, finely chopped
3 tablespoons chopped fresh cilantro ( OR parsley) plus leaves for garnish
Preheat oven to 425 degrees. Heat 1 tablespoon oil in a large ovenproof skillet over medium-high heat. Season pork with salt and pepper and cook, turning, until browned on all sides, 6–8 minutes. Transfer skillet to oven and cook pork until thermometer inserted in thickest the part registers 140 degrees, 10–15 minutes. Transfer pork to a cutting board and let rest at least 5 minutes before slicing, set aside pan drippings.
Toss dates, orange juice, reserved pan drippings, 3 tablespoons chopped cilantro, orange zest, jalapeno, walnuts and remaining 1 tablespoon oil in a small bowl; season with salt and pepper. Spoon relish over pork and top with cilantro leaves. Pair with mashed potatoes and arugula salad.
Relish (without pan drippings) can be made 4 hours ahead. Cover and chill. Add pan drippings just before serving.
* most single pork tenderloins are just over a pound. Adjust….mine took about 9 minutes in the oven to get to 140 degrees. This size serves 2-3 people depending on amount of side dishes.