Ricotta Gnudi
February 22, 2014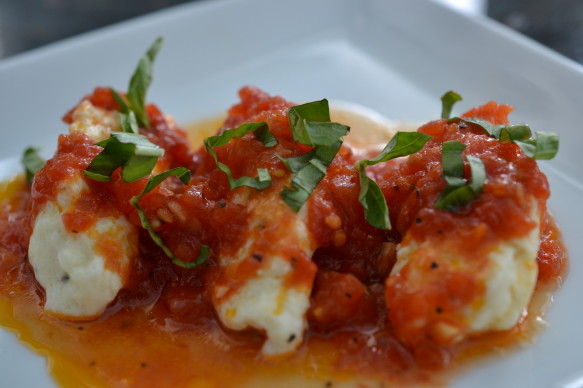 Gnudi (nudi) is nudi to me!! Gnudi refers to pasta like dumplings that are "naked" of their pasta wrappers. My plan was to make gnocchi in the next week or so (with Courtney) and then…..this happened! I was intrigued by the use of ricotta and parmesan to form these delicious clouds of ricotta heaven. While gnocchi is potato based and time-consuming (I heard) gnudi is lighter and easier to prepare. The method is simple. Mix ricotta, flour, cheese, egg and seasonings together, then boil. Success!! I loved the dense somewhat chewy texture of the gnudi smothered by a simple, yet full flavored sauce. Although any shape will work, it was fun to try the "two tablespoon" football shape. This meal has a rustic charm that pairs well with an arugula, lemon/olive oil splashed salad.
Ricotta Gnudi       (recipe by Sara Jenkins/Bon Appetit)
Makes approximately 20
16 ounces ricotta (about 2 cups) Set ricotta in a strainer to remove any excess liquid for about 10 minutes
1 large egg, beaten to blend
1 large egg yolk, beaten to blend
1/2 teaspoon freshly ground black pepper
1/2 cup finely grated Parmesan, plus more
1/2 teaspoon kosher salt plus more
1/2-3/4 cup all-purpose flour, plus more
Garnish: basil and additional parmesan
3 cups Quick Pomodoro Sauce     (see below)
Mix ricotta, egg, egg yolk, pepper, 1/2 cup Parmesan, and 1/2 teaspoons salt in a large bowl until well combined. Add 1/2 cup flour; stir just until combined and mixture forms a ball (mixture will be soft and moist with some bits of ricotta remaining; add more flour by the tablespoonful if it feels wet).
Dust a rimmed baking sheet generously with flour. Using 2 large soup spoons, shape heaping tablespoonfuls of dough into football shapes; place on baking sheet and dust with more flour.
Cook gnudi in a large pot of boiling salted water, stirring occasionally, until cooked through and tender, 5-6 minutes (gnudi will quickly float to surface; continue cooking or gnudi will be gummy in the center).
Using a slotted spoon, divide gnudi among bowls. Top with Quick Pomodoro Sauce and more Parmesan and ribbons of basil.
Pomodoro Sauce
1 28-ounce can whole peeled tomatoes
1/2 cup olive oil
2 garlic cloves, chopped
1/4 teaspoon sugar
Kosher salt
Pulse tomatoes with juices in a blender to form a coarse purée. Heat oil in a medium saucepan over medium heat. Add garlic and cook, stirring often, until beginning to brown, about 2 minutes. Add tomato purée and sugar and season with salt. Bring to a boil, reduce heat, and simmer gently until sauce is slightly thickened, 10-15 minutes. DO AHEAD: Sauce can be made 3 days ahead. Cover and chill, or freeze for up to 3 months.