Potato Leek Soup
March 1, 2014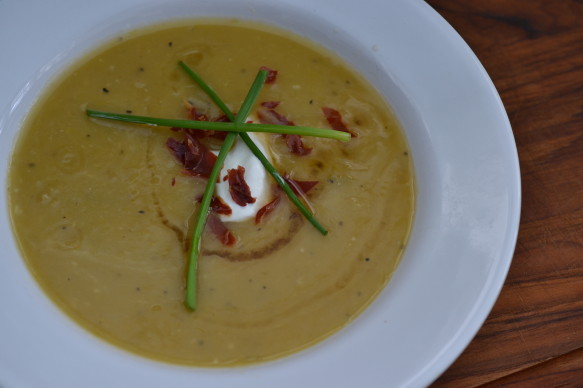 YEP….still making soup. Yep, it's still winter. To us the perfect meal…healthy, hearty and easy!! Potato leek soup is naturally creamy with a velvety texture. This humble soup calls for only 4 ingredients plus a bit of half and half ….I opted out of the latter for a lighter version. Last year we made this soup on St. Paddy's Day and to finish… I drizzled with a bit of Jameson's and… I must say that was brilliant! White wine or a drizzle of olive oil will do the trick as well. Garnish with a dollop of sour cream and a sprinkle of chives.
Potato Leek Soup
Serves 4
2 leeks, white and light green part chopped
3 tablespoons unsalted butter
Kosher salt
3 medium, Yukon gold potatoes, peeled and diced
1 garlic clove, smashed
1 quart vegetable broth
3/4 cup 1/2 &1/2 (or more for desired consistency)
Kosher salt
1/2 teaspoon pepper
2 slices of proscuitto
Sour cream
Chives, chopped
Jameson's Whiskey
Chop leaks. In a large saucepan over medium heat, melt the butter. Add the leeks and a heavy pinch of salt. Sweat for 5 minutes. Decrease the heat to medium-low and cook until the leeks are tender, approximately 25 minutes, stirring occasionally. Add garlic the last 2 minutes.
Add the potatoes and vegetable broth, increase the heat to medium-high, and bring to a boil. Reduce the heat to low, cover, and gently simmer until the potatoes are soft, approximately 45 minutes.
Turn off the heat and puree the mixture with an immersion blender (or blender) until smooth. Stir in the 1/2 & 1/2, and pepper. Taste and adjust seasoning if desired. Garnish sour cream, chives, proscuitto* and drizzle with Jameson's Whiskey.
* crisp proscuitto in a 350 degrees oven for approximately 10 -15 minutes.