Guinness Chocolate Cake
March 9, 2014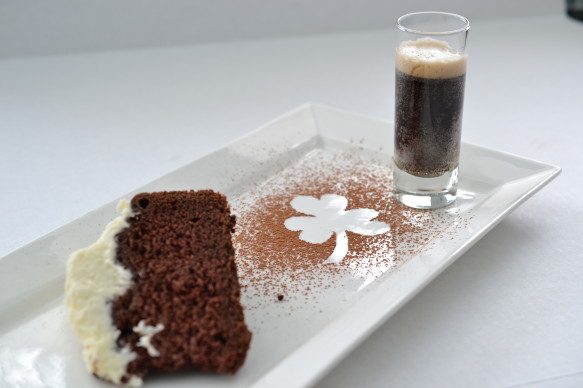 I'm not a baker but look what happened!!!! This single layer cake with its frothy crown of frosting is so easy to pull together and the results so delicious…it's a must try. The signature bitterness of Guinness disappears and leaves a moist dense cake. Guinness works well with desserts due to its distinct chocolate and coffee notes. A perfect ending to your St. Patrick's Day festivities. Slainte!!
Guinness Chocolate Cake   (adapted from Inthekitchenwithkatie)
1 Cup and 2 tbsp unsalted butter
1 Cup Guinness
3/4 Cup Dutch process cocoa, sifted
2  1/4 C
ups all
purpose flour, sifted
2 Teaspoon baking soda
2 Cups sugar
2 Eggs
2/3 Cups sour cream
1 Tablespoon vanilla extract
Frosting 
1  1/3 Cups cream cheese
1 1/2 Cups powdered sugar, sifted
2/3 Cup cream, whipped
Preheat oven to 350 degrees. Add butter, cocoa and Guinness to a saucepan. Warm over a medium heat and stir until melted. Set aside for 5 to 10 minutes to cool slightly.
Add flour, baking soda and sugar to a large mixing bowl and mix together well. Pour in the Guinness/cocoa/butter mixture, lightly combine, add the vanilla, eggs and sour cream and beat everything together until well combined. The batter should be thick and dark chocolate in color.
 Pour into a greased and lined 10″ angel food pan or springform and cook in the oven for 45 minutes to 1 hour, or until a skewer comes out clean from the center of the cake. This cake is very moist inside, so use your judgment regarding the skewer test. Do not leave in the oven until the cake has totally dried out — cook long enough so there is no uncooked cake on the skewer but there may be a few moist crumbs sticking to it after 45 minutes of cooking. 
 Leave to cool before frosting.
Frosting

Place the cream cheese into the bowl of a mixer and beat on a low-medium speed using a whisk attachment. Whisk until the cheese is smooth and there are no big lumps remaining.
 Gradually add in the sifted powdered sugar and beat to combine.
 Remove bowl from mixer and gently fold in the whipped cream.
 Place cooled cake on a serving platter and add the frosting, spreading out just to the edge without going over the side until the cake resembles a pint of Guinness!