Corned Beef and Cabbage Flatbread
March 13, 2014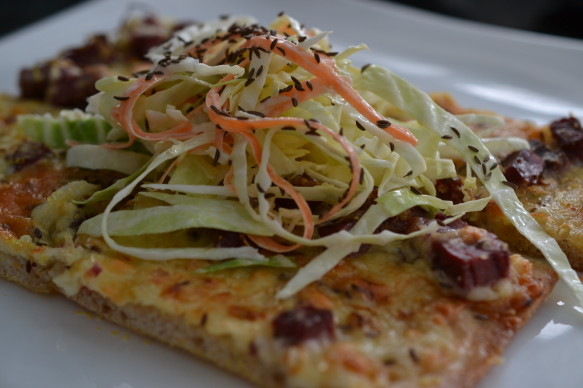 When you think of Irish cooking, a notable classic of corned beef and cabbage may come to mind, accompanied with a pint of Guinness…of course! Celebrating St. Paddy's Day with a crowd can be festive and simple. While I can appreciate the traditional feast of  corned beef, veggies, bread, potatoes and cabbage served on large platters family style …I'm all about the twist. How about taking those unique flavors of briny meat, punchy horseradish cream, and caraway to create a flatbread??!!! Last year this came out of St. Paddy's Day leftovers and was FANTASTIC!! THIS year I am skipping the family style dinner and going casual with this as my entree. A quick trip to the deli saves you 4-5 hours of cooking and satisfies all your SPD cravings. For additional leftover ideas try corned beef and cabbage egg rolls and breakfast hash.
Corned Beef And Cabbage Flatbread
Store bought pizza dough
2-3 Tablespoons horseradish cream, store-bought or this (look down the sight for the recipe), plus a few more for salad
9 slices of Swiss cheese
2-3 Slices of corned beef, about 1/4″ thick, cubed
1/2 cup (or more) Irish cheddar cheese, shredded
3 slices of cabbage, thinly sliced, plus more for a salad to place on top
2 Tablespoons caraway seeds, plus more for salad
1 carrot, shredded
Preheat oven to 450 degrees. Roll out pizza dough. Sprinkle sheet pan with corn meal and place dough on pan. Spread dough with horseradish cream and layer swiss cheese. Sprinkle on beef, then cheese. Lightly arrange cabbage on top and finish with drizzled caraway seeds. Place in oven and cook for approximately 15-20 minutes, until cheese browns and the crust is crisp.
In a small bowl combine sliced cabbage, shredded carrots, caraway seeds, horseradish cream (add a bit at a time, you don't want it too creamy) and mix until combined. Place on top of flat bread or as a side salad. For dessert serve this!!