Soft Polenta with Rock Shrimp Ragout
March 22, 2014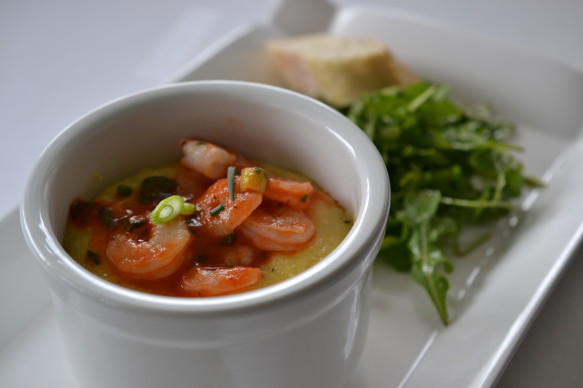 This is a Mario Batali classic…fresh seafood accompanied by very soft polenta. Hard to believe that this Italian porridge, staple of Northern Italy, was once thought of as food for peasants. Now this versatile gluten-free ingredient can be found in many healthy dishes. The ragout pulls together quickly and has a rich tomato base with a fresh note of lemon. If you are looking for a comforting meatless meal….you've found it!
Soft Polenta with Rock Shrimp Ragout       (from Mario Batali)
Serves 6
1 tablespoon sugar
1 cup quick-cooking polenta (6 ounces)
1/4 cup plus 2 tablespoons extra-virgin olive oil
Salt
4 scallions, thinly sliced
1/2 teaspoon crushed red pepper
3 tablespoons tomato paste
1/2 cup dry white wine
1 1/2 pounds shelled rock shrimp
1/4 cup coarsely chopped flat-leaf parsley
1 tablespoon fresh lemon juice
1 1/2 teaspoons finely grated lemon zest
Freshly ground pepper
In a medium saucepan, bring 5 cups of water to a boil with the sugar. Whisk in the polenta in a thin stream. Cook over low heat, stirring constantly, until thickened, about 5 minutes. Remove from the heat. Stir in 3 tablespoons of the olive oil and season with salt. Press a piece of parchment or wax paper directly onto the surface of the polenta and keep warm.
In a large skillet, heat the remaining 3 tablespoons of olive oil. Add the scallions and crushed red pepper and cook over moderate heat for 1 minute. Add the tomato paste and cook, stirring, until slightly darkened, about 3 minutes. Add the wine and 1/4 cup of water and simmer over moderately high heat for 1 minute. Add the shrimp and simmer, stirring, until just cooked through, about 2 minutes. Stir in the parsley, lemon juice and lemon zest and season with salt and pepper. Remove from the heat.
Rewarm the polenta over moderately high heat, whisking constantly. Spoon a pool of polenta in the center of 6 shallow bowls. Spoon the shrimp and sauce over and around the polenta and serve right away.