Artichoke Soup with Crispy Salami and Lemon-Parsley Quinoa
April 4, 2014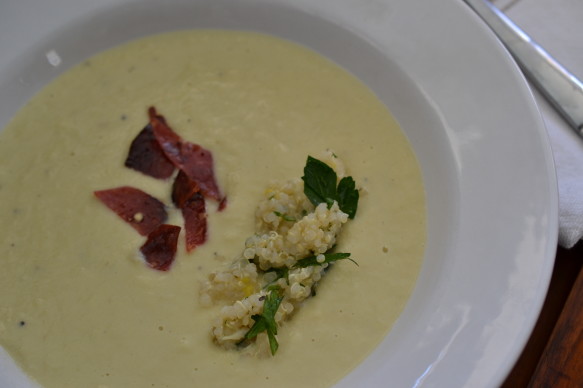 It's artichoke season. As much as I love a braised artichoke, enjoying every leaf until I can get to that coveted heart….this soup is one more way to enjoy this healthy seasonal vegetable. Studies show that artichokes have more antioxidants than any other vegetable, aid in digestion, are great for liver health and are high in fiber. Bring 'em on!!! Garnishing with lemon-parsley quinoa and crispy salami compliments the great flavor and texture of this soup. While cooking for just the two of us, I lighten up this recipe by using only broth and a touch of cream. For entertaining, don't skip it……the cream creates a luxurious texture. 
Artichoke Soup with Crispy Salami and Lemon-Parsley Quinoa  (from Sunday Suppers)
Serves 4
2 (14-oz.) cans artichoke hearts, drained and rinsed
2 cloves garlic, peeled and coarsely chopped
1 cup chicken stock
1 cup heavy cream
2 tsp fennel seeds
Salt and pepper
1/2 cup dried quinoa
1/3 cup chopped fresh parsley leaves
1 tsp. lemon zest (from about 1 lemon), plus 1 tbsp. fresh lemon juice
Extra-virgin olive oil
4 large thin slices genoa salami
Preheat the oven to 350 degrees. In a medium saucepan, add the artichoke hearts, the garlic, half of the chicken stock and half of the cream; cook over medium heat until warmed through. Add the fennel seeds and season generously with salt and pepper; turn off the heat. Using a blender, puree the mixture until almost smooth. Gradually add more stock and cream as needed to achieve the consistency you want, continuing to puree with the blender until the soup is very smooth.
Place the salami slices on a baking sheet and cook until crispy all over and browned on the edges, about 10 minutes. Remove, drain and cool on paper towels. Roughly chop.
Cook the quinoa according to package directions, or a little less than suggested for a crunchier consistency. Transfer to a medium mixing bowl, then mix in the lemon zest and juice, parsley leaves, and salt, pepper and olive oil to taste.
Quickly reheat the soup if needed. Top each with a generous spoonful of the quinoa mixture and sprinkle with the crisp salami.