St. Germain Cucumber Cocktail
April 26, 2014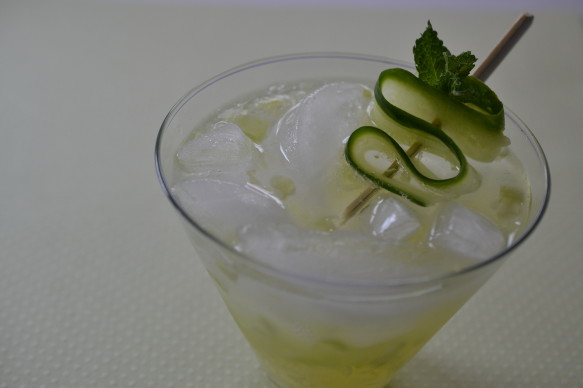 California dreaming! Last week while visiting my daughter in warm, sunny LA…I came across a refreshing, flavorful cocktail. I'm not a sweet drink kinda girl, however this liqueur paired with muddled cucumbers, lemon and vodka had me…curious. What was this flavor I could not decipher??? St. Germain is a French liqueur made of hand-picked elderberry flowers with a flavor profile of peach, pear, orange and grapefruit. Once our server gave us the "secret ingredient"  I was off and running. I think the key to making this cocktail is to muddle the lemons and cucumbers in a martini shaker then add vodka (or gin) and strain  into your glass. Next add ice and top with soda.  *If you prefer gin ….I would use cucumber based Hendricks.
3 cucumber slices, without the rind
2 slices lemon, without the rind
1 teaspoon sugar ( I omitted the sugar)
1.5 ounces gin or vodka
.5 – 1 ounce St-Germain (or a bit more to taste)
Club soda
Ice
In the bottom of a shaker or heavy glass, muddle (or crush) the cucumber and lemon with the sugar. Add the vodka and St-Germain and stir to combine. Fill the glass with ice and then stir again. Top with club soda. Taste and add more St-Germain to adjust the sweetness as desired.