Chicken-Apricot Skewers
May 2, 2014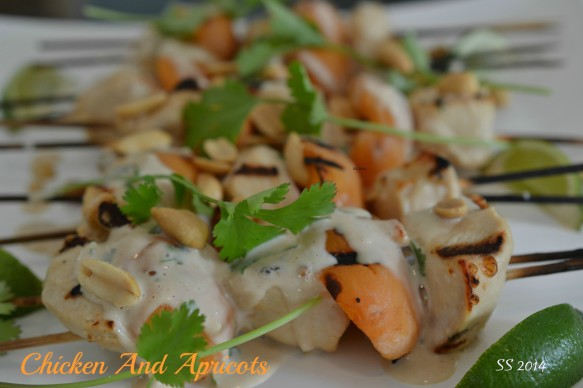 Apricots…this is the season for those small golden jewels with velvety skin. Packed with fiber and vitamin C, these smooth and sweet stone fruits pair beautifully with chicken. Add a few skewers and some creamy peanut sauce and you have yourself a lovely entree. I like the idea of using double skewers to make turning on the grill easier. Serve over brown rice.
 Chicken-Apricots Skewers    (Adapted from Bon Appetit)
6 servings
3/4 cup canned light unsweetened coconut milk
1/2 cup plain Greek yogurt
1/2 cup smooth peanut butter
1/4 cup fresh lime juice (about 2 limes)
2 teaspoons light brown sugar
2 garlic cloves
3/4 teaspoon kosher salt plus more for seasoning
1/4 cup cilantro leaves plus sprigs for garnish
2 tablespoons coarsely chopped jalapeño (about 1 large)
1 pound skinless, boneless chicken thighs or breasts, cut into twenty-four 1″ chunks
12 firm ripe small apricots, halved, pitted
Freshly ground black pepper
1/4 cup unsalted, dry-roasted peanuts, coarsely chopped
Lime wedges
Purée first 6 ingredients and 3/4 teaspoon salt in a blender until smooth. Add 1/4 cup cilantro leaves and jalapeño and blend briefly to combine. Transfer 1/2 cup marinade to a small bowl; cover and chill for serving (return to room temperature before using). Place remaining marinade in a resealable plastic bag; add chicken, seal bag, and turn to coat. Chill for at least 3 hours or overnight.
Light grill to high. Holding 2 skewers parallel to each other and 1/2″ apart, thread 1 piece of chicken onto skewers, then 1 apricot half. Repeat with 1 more chicken piece and 1 more apricot half. Repeat with remaining skewers, chicken, and apricots for a total of 12, each holding 2 pieces of chicken and 2 apricot halves. Season with salt and pepper. Brush apricots with some marinade from bag; discard remaining marinade.
Grill skewers on one side until chicken is well browned, 3-4 minutes. Turn and grill until other side is well browned, 3-4 minutes longer. Move to a cooler part of grill. Cover grill and cook until chicken is cooked through, about 2 minutes longer. Transfer to a serving platter; sprinkle with cilantro sprigs and peanuts and drizzle with reserved marinade. Serve with lime wedges alongside for squeezing over.