Melon Mozzarella Prosciutto Appetizer
May 23, 2014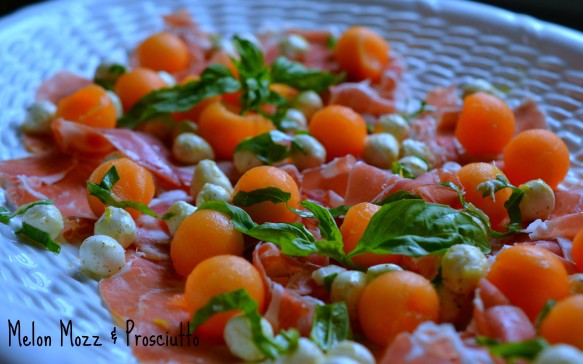 This is a fresh interpretation on a classic Italian antipasto using melon and prosciutto. Simple yet elegant…..refreshing with sweet and savory flavors. Don't skimp on the cured ham….buy good quality. And as for the mozzarella, I found these tiny mozzarella balls which really were the inspiration for this appetizer. Use with picks and grab mozzarella, a melon ball, and then wrap with a slice of prosciutto. I have also served this on a bed of arugula as a family style salad drizzled with a basil vinaigrette.
Melon, Mozzarella and Prosciutto Appetizer
Serves 8 (Fills a large platter)
12 pieces prosciutto, good quality
1 cantaloupe, balled
1 container of mozzarella balls
2 tablespoons basil, chiffonade (or more)
1 tablespoon mint, chiffonade (optional)
Lemon zest from 1/2 lemon and 1 tablespoon juice
Olive oil
Salt and pepper
Drain mozzarella and place the balls in a plastic bag or container to marinade. Add 3 tablespoons olive oil, lemon zest, lemon juice, basil, mint and salt and pepper. Marinade for 30 minutes or longer. Cut cantaloupe in half, scoop out seeds and using a melon baller, make balls. Arrange prosciutto on platter, top with melon and mozzarella. Garnish with basil. (A drizzle of balsamic glaze would also be great)
**If you make a salad, first dress arugula with a basil vinaigrette then arrange as detailed above.