Grilled Steak and Fondue Sandwich
May 30, 2014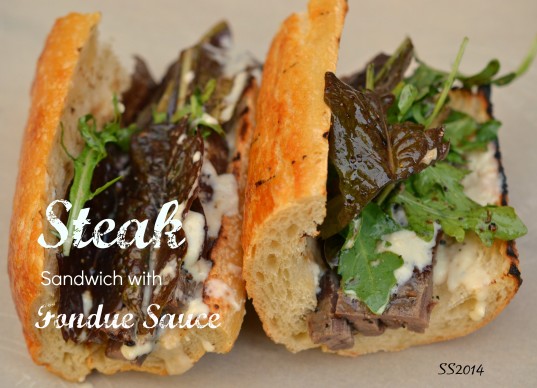 Looking for an alternative to a hamburger this grilling season? I think flank steak is a perfect and affordable lean option. Marinating in garlic, red chili peppers and "porcini dust"…and thinly slicing against the grain makes for a tender piece of meat. And fondue…just the mention brings a slew of great memories, not the least, our first date at Gejas's. Topping this tasty sandwich with a combination of Parmesan and Fontina cheese sauce pretty much puts this over the top. This recipe pulls together quickly for a weeknight dinner or a casual evening with friends.
Steak Sandwich
Serves 6
2 pounds Flank Steak
4 tablespoons Porcini Mushroom Powder (Dried Porcini finely ground)
3 Garlic Cloves (smashed into paste)
2 teaspoon Red Chili Flakes
Kosher Salt
Black Pepper
Olive Oil
3 cups Baby Arugula
2 cups Frisee Lettuce (I used red leaf)
Balsamic Vinegar
Parmesan Fondue
3/4 cups Heavy Cream (start with 1/4 cup at a time for desired consistency, add  more if needed)
3/4 cup Grated Parmigiano-Reggiano
3/4 cup Grated Fontina Cheese
Pinch of Nutmeg
Pinch of Salt
Season the Steak with salt. Stir together **Porcini Powder, Garlic, Chili Flakes and season with pepper. Drizzle in enough oil to form a loose paste. Rub on both sides of the steak and place in a resealable bag. Marinate in the refrigerator for a least one hour and up to overnight.
Remove Steak from refrigerator 20 minutes prior to cooking. Heat a grill to medium-high. Place the steak on the grill and allow to cook for 4-5 minutes and cook through more than halfway. Flip and continue to cook for 4-5 minutes. (Approximately 125 degrees for rare to medium rare). Remove from grill and allow to rest for 10 minutes before slicing. Meanwhile, slice open the baguette and place on the grill, cut side down, and toast lightly.
For Fondue: Heat the cream over a double boiler. Stir in the Cheese until melted. Season with Nutmeg and Salt. Keep warm until ready to serve.
In a large bowl, toss together the arugula and frisee with a few tablespoons of olive oil and balsamic vinegar. Season with salt to taste.
Slice the Steak and place on the baguette. Drizzle on the fondue and top with the dressed greens. Cut into sandwiches and serve warm or room temperature.
**Use any kind of dried mushrooms for the powder, if porcini can't be found.
Adapted from Mario Batali