Watermelon Feta and Prosciutto
June 5, 2014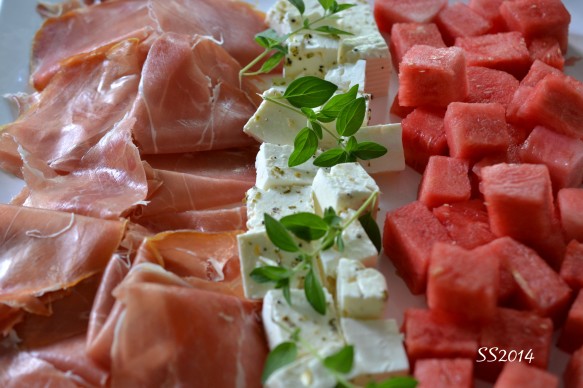 Here's a variation of one of my latest posts. No cooking. No baking. Shop, slice, plate and go!!! We all have busy summers and last minute get-togethers…..this will make an impressive and delicious appetizer.
Watermelon Feta and Prosciutto Platter
Prosciutto slices, best quality (about 2 slices per person)
2 large slices feta  (about 1″ thick, cut in about 1/2″ cubes)
Seedless watermelon cut into cubes
2 tsp. dried oregano
1 teaspoon lemon zest
1 teaspoon pepper, or more
2 tablespoon olive oil
1 teaspoon red wine vinegar
Oregano sprigs for garnish
Place the feta slices in a zip lock bag. In a small bowl combine oregano, zest, pepper, olive oil, and vinegar. Whisk together and add to feta. Marinade for 1 hour or longer. Cut watermelon into cubes. Cut feta into cubes. Arrange prosciutto, feta and watermelon onto platter. Garnish with oregano sprigs. Serve with picks.