Lobster Mac N Cheese
June 19, 2014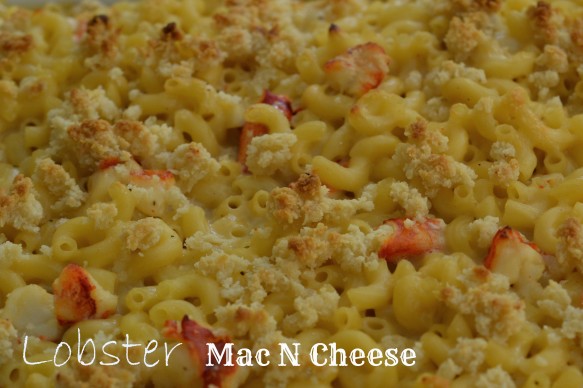 A very special side dish or a decadent entree…you choose. I'm pairing this rich, indulgent dish with BBQ'd Ribs. The tender chunks of fresh lobster are king here mixing well with the combination of Gruyere and cheddar cheese. Like I said, this is a very special meal for the MVP of our family…Dad! We can talk healthy food tomorrow!! Today I feel we should spoil the man with comfort food…after all he has kept us all comfortable for years.
Lobster Mac N Cheese
Kosher salt
Vegetable oil
1 pound elbow macaroni
4 cups milk
8 tablespoons (1 stick) unsalted butter, divided
1/2 cup all-purpose flour
12 ounces Gruyere cheese, grated (4 cups)
8 ounces extra-sharp Cheddar, grated (2 cups)
1/2 teaspoon freshly ground black pepper
1/2 teaspoon nutmeg
1 1/2 pounds cooked lobster meat
1 1/2 cups fresh white bread crumbs (5 slices, crusts removed)

Preheat the oven to 375 degrees F.

Boil water in a large pot and generously salt. Add the pasta and cook according to the directions on the package, 6 to 8 minutes. Drain.

Heat the milk in a small saucepan, but don't boil it. In a large pot, melt 6 tablespoons of butter and add the flour. Cook over low heat for 2 minutes, stirring with a whisk. Still whisking, add the hot milk and cook for a minute or two more, until thickened and smooth. Off the heat, add the Gruyere, Cheddar, 1 tablespoon salt, the pepper, and nutmeg. Add the cooked macaroni and lobster and stir well. Place the mixture in 6 to 8 individual gratin dishes or a casserole dish.

Melt the remaining 2 tablespoons of butter, combine them with the fresh bread crumbs, and sprinkle on the top. Bake for 30 to 35 minutes, or until the sauce is bubbly and the macaroni is browned on the top.
Adapted from Food Network/Ina Garten